The first season of Sailor Moon, sometimes unofficially referred to as Sailor Moon Classic by fans, adapts the first story arc from the manga that features the awakening of Sailor Moon, Sailor Mercury, Sailor Mars, Sailor Jupiter and their first encounters with Tuxedo Mask,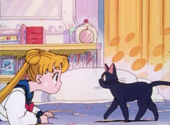 Sailor Venus, Luna and Artemis as well as the evil Queen Beryl and her four generals.
Compared to later seasons, the first has a kind of super hero vibe to it at first with Sailor Moon gaining her super hero powers, investigating evil bases and even using her magical powers to disguise herself to aid in her infiltrations.
There's also a large amount of time spent of Sailor Moon feeling conflicted over her dual identities and trying to keep it hidden from her everyday friends yet still protect them as the super hero she is. Not unlike Superman or even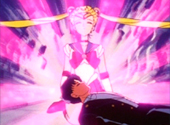 Buffy The Vampire Slayer.
As the season progresses though and the concepts of long lost loves and reincarnation are introduced the show develops a more mature edge and gave it the depth that has made it as popular as it is and more than likely secured the production of the next four seasons, the movies and the numerous other offshoots that have made Sailor Moon one of the most enduring anime licenses ever created.
The Episodes
01. A Moon Star is Born
02. Talk Radio
03. Slim City
04. So Your Want to be a Superstar
05. Computer School Blues
06. Time Bomb
07. An Uncharmed Life
08. Nightmare in Dreamland
09. Cruise Blues
10. Fight to the Finish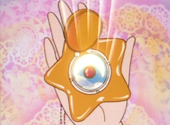 11. Match Point for Sailor Moon
12. An Unnatural Phenomenon
13. Wedding Day Blues
14. Shutter Bugged
15. Dangerous Dollies
16. Who is that Masked Man?
17. An Animated Mess
18. Worth a Princess' Ransom
19. Molly's Folly
20. A Friend in Wolf's Clothing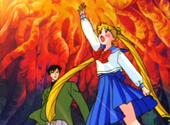 21. Jupiter Comes Thundering In
22. The Power of Friendship
23. Mercury's Mental Match
24. An Artful Attack
25. Too Many Girlfriends
26. Grandpa's Follies
27. Kitty Chaos
28. Tuxedo Melvin
29. Sailor V Makes the Scene
30. A Crystal Clear Destiny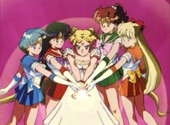 31. A Reluctant Princess
32. Bad Hair Day
33. Little Miss Manners
34. Ski Bunny Blues
35. Ice Princess
36. Last Resort
37. Tuxedo Unmasked
38. Fractious Friends
39. The Past Returns
40. Day of Destiny
Missing Episodes
During the adaption process, several episodes were famously cut from the English version of the Sailor Moon anime. For more information on this and my speculation about the reason for the cuts,
check out my Moonie Mailbag article
related to this very matter.
Jap. 02 I'll punish you! The fortune house is a youma's mansion
Jap. 05 The Demonic Scent! Schanerla Steals Love
Jap. 06 Protect the Song of Love! Usagi is Cupid
Jap. 20 Oh Summer, Sea, Holiday! And Ghosts, too
Jap. 42 Sailor Venus' Past, Minako's Tragic Love
Jap. 45 The Sailor Warriors Die! The Tragic Final Battle
Jap. 46 Usagi's Everlasting Wish! A New Reincarnation
Opening and Closing Credits
Throughout the first season of the Sailor Moon anime and it's different releases, several opening and closing credits were used. Here you'll find detailed summaries of each credits accompanied by screencaps of each one. Enjoy!
English Opening Credits 1 - English Opening Credits 2
Japanese Opening Credits 1 - Japanese Opening Credits 2 - Japanese Opening Credits 3
English Closing Credits
Japanese Closing Credits 1 - Japanese Closing Credits 2 - Japanese Closing Credits 3
Bumpers
In the original Japanese version of Sailor Moon, small bumpers, also referred to as "eyecatches" by fans, were included before and after commercial breaks. These were excluded when the show was adapted for an English release most likely due to the cheese factor that many of these bumpers posess. Here they are though for your enjoyment.
<-- Introduction 1 --
-- Return to Main--
-- Sailor Moon R -->
Are you a Sailor Moon fan? Sign up for my free Sailor Moon newsletter to stay up-to-date with all of the latest Sailor Moon anime, manga, and merchandise news.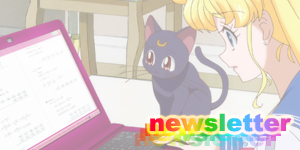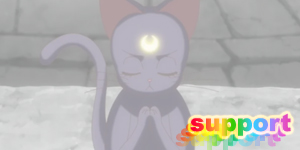 Enjoying the content on Moonkitty.NET? Please consider sending me a quick donation via Ko-Fi. Every little bit is appreciated and helps support me as I dedicate more time and resources into content creation for the site and its various associated projects.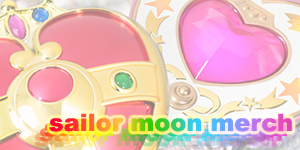 sailor moon eternal edition manga
sailor moon naoko takeuchi collection manga
sailor moon crystal anime blu-rays and dvds
sailor moon funko pop! figures
sailor moon t-shirts and tops
sailor moon proplica item replicas
sailor moon tamashii nation figures
90s sailor moon anime dvds
-- more -->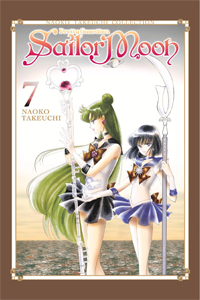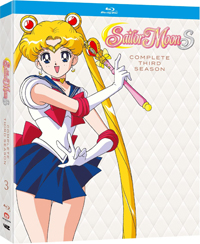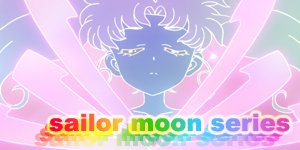 sailor moon crystal anime episode guide
sailor moon 90s anime episode guide
live action sailor moon tv series
sailor moon musicals
sailor moon manga
-- more -->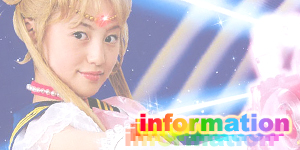 sailor moon characters
sailor moon locations
sailor moon voice actor interviews
sailor moon attacks
moonie mailbag
-- more -->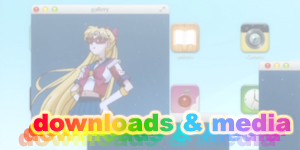 sailor moon podcasts
sailor moon desktop wallpapers
sailor moon mobile wallpapers
sailor moon avatars
sailor moon christmas content
-- more -->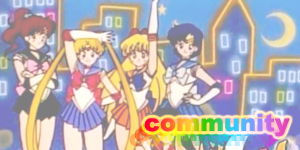 Stay up to date with all of the latest Sailor Moon news and site updates by connecting with me on some (or all) of the below social networks and platforms.