Click the "Like" button at the bottom of a page to get it featured in this activity box for other Sailor Moon fans to see!

survey hosting


Only vote once. Sailor Moon Says!

When do Sailor Moon and Tuxedo Mask get together?
When I first heard this questions I thought how simple it would be to answer but then once I started thinking about all of the hypnosis, mind control, time reversing and amnesia in the Sailor Moon anime I realised that I would have to do a bit of research to find the answer.
While they definitely begin to accept their feelings for each other after their memories are returned in A Crystal Clear Destiny in the first season of the anime, before either of them can really do anything, Tuxedo Mask is kidnapped and brainwashed by Queen Beryl. Sailor Moon pretty much spends the rest of the season trying to save Tuxedo Mask but even in the season finale, Day of Destiny after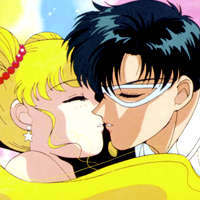 the battle they don't get a chance to begin their relationship as time has been rewound and they both have lost their memories of the entire season's events and of each other.
Eventually in Sailor Moon R their memories are returned and in the climax of the Doom Tree arc, the episode Treed Sailor Moon and Tuxedo Mask profess their love for each other and as the episode ends they appear to finally be together as boyfriend and girlfriend.
Their first real date happens in the very next episode which is interrupted by the sudden arrival of their daughter from the future.
Their relationship goes to the next level in Episode 173 of Sailor Stars when Darien (Mamoru) proposes to Serena (Usagi) at the airport.
They are both married offscreen sometime after the end of the series.

Thanks to Dalaina for asking this question via Twitter.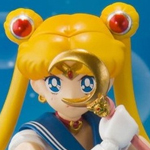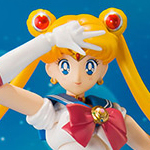 Bandai Tamashii Nations
Sailor Moon S.H. Figuarts Model!
Pre-Order NOW on Amazon.com!

Pre-Order NOW on Amazon.co.jp!

Pre-Order NOW on CDJapan.co.jp!
Pre-Order NOW on JList.com!
Sailor Moon Short Stories #2
Sailor Moon Short Stories #1
Sailor Moon Mug
Luna Plush Toy
Sailor Moon Box Set (Vol. #1-6)
Sailor Moon Luna & Artemis (Set of 2) Pins
Sailor Moon #10
Sailor Moon #11
Tuxedo Mask Mug
Sailor Moon #12
For a complete listing of all the new official Sailor Moon merchandise, check out my Sailor Moon Shopping Guide.

During the special Sailor Moon 20th Anniversary Talk Event in Tokyo, a new Sailor Moon anime due for worldwide release in the Summer of 2013 was announced! For all of the latest information on this exciting new anime, check out my New Sailor Moon Anime Information Page which will be updated constantly with news and images.

Pretty Guardian
Sailor Moon
Super Special DVD-BOX
Every PGSM episode and special!
Coming Soon: In November 2012, special Sailor Moon anime "Memorial DVD Selection" box sets will be released in Japan. Not much is known about these DVDs themselves or how much they will differ from the existing 20th Anniversary DVD Box Sets. Watch this space for news and images of these products.




Sailor Moon Tamashii Nations Shopping Guide
Sailor Moon Costume Shopping Guide
Sailor Moon T-Shirt Shopping Guide
How to Write to Naoko Takeuchi
Sailor Moon Manga Mistakes #9 + #10
2nd Gen English Sailor Moon Manga Shopping Guide
Sailor Moon Accessories Shopping Guide
Sailor Moon Phone Cases & Straps Shopping Guide