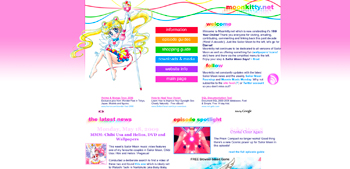 Moonkitty.NET
Version 12 - 10 Year Anniversary!
4th May 2009 - Present
Months before the site's 10th Anniversary I began drawing rough sketches of different layouts for the site's new look and had decided very early to use the September 2006 Sailor Moon Channel layout image somehow as it was exactly what I was looking for. It featured Eternal Sailor Moon, something I wanted as I would soon be getting to the Sailor Stars season in the Episode Guides, it was in a really fresh energetic style and it was easily recognisable to casual fans as being Sailor Moon.
When the date got closer though my laptop died and delayed any design work until a month after the site's actual anniversary. Eventually though I fell into possession of an Apple iMac something that I was very uncomfortable with having always been a PC user.
Having an iMac however turned into a blessing as I was now given the opportunity to view websites on a widescreen monitor. After receiving a new version of Photoshop from a friend of mine I was back in business designing not just a new website layout but a new look for the next generation of Sailor Moon fans. More and more people were moving to computers with widescreen monitors and I would be a fool not to recognise this so I implemented certain design functions (such as the pink gradient and borderless sides) to make the site look great not just in regular monitors but in the next generation widescreen ones too.
Originally I was going to have animated rising stars such as on the first Australian Sailor Moon DVD main menu on the pink gradient or even on the white content header but after spending literally days experimenting with and without stars I eventually decided at the last second not to have any at all as it was on the verge of making the site look a bit tacky and "newbie-y".
Something else that changed during the design process were the rainbow lines. I liked the horizontal lines in the previous layout and wanted to include them here so I made a yellow, red and blue one to simulate Eternal Sailor Moon's skirt layers and ribbons. On a whim I decided to try a ripple filter which looked really cool and as I was moving them up and down I realised that it would look perfect if they looked like they were coming out of Eternal Sailor Moon's septre! I then added a green ribbon after realising that they kind of looked like representations for the Inners and added a lens flair and it was almost done.
I was always going to remove all the links from the side and create a simplified, almost DVD menu-ish menu in the centre of the header but it wasn't until the "moonkitty.net" logo had it's rainbow effect and I saw how it suited the ribbons that I decided to create a different coloured link for each section.
As an extra touch, all the header images for each page on the site matches the colour of the main menu link. I realised this made navigation easier as you could tell what part of the site you were in by simply looking at the titles and it was more visually pleasing then having a simple text title as in the previous layouts.
The random episodes and attacks returned as did the site feed but in addition to this I created a Moonkitty.net Twitter account which proved a very convenient way to keep people up to date on the site and Sailor Moon news and also advertise the site to people who hadn't found it yet. Another cool feature was the random DVD spotlight that I added on the side menu below the others.
Overall I have to say this layout is my favourite one out of all the layouts this site has seen in the previous 10 years and is a great celebration of the site's history and Sailor Moon in general.
Thank you to everyone who has ever visited Moonkitty.net, whether you've been visiting since the days of Artemis: The Myth, The Legend, The HERO or you've only just found it, I hope you've had fun, found something interesting and has reminded you of how great a series Sailor Moon truely is in all of it's forms!
I wonder what Moonkitty.net will look like for it's 20th Anniversary?


<-- layouts & history --
Love Sailor Moon? Sign up for my free Sailor Moon newsletter to stay up-to-date with all of the latest Sailor Moon anime, manga, and merchandise news.