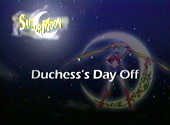 Episode 146
SM SuperS
Duchess' Day Off
Jap.146 "Holiday in Juban City! A Carefree Princess"
Artemis, Luna and Diana are watching a news report about a visiting Duchess from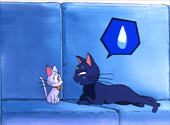 the country of Amethyst, Duchess Rubena. The report says that she's suffering from the flu and has cancelled all of her obligations.
Diana tells Luna that in the future, Serena and Darien would sometimes get sick the day of important events but says it's never a problem as they're always better the next day. Luna thinks this is a little too convenient.
While out shopping Rini and Serena begin fighting in the middle of the street.
The Duchess who happens to be walking by stops them from fighting and then begins to bring in random strangers to help. Serena and Rini think this is weird and run home.
Once home they change into their Yukatas and get ready for the town festival that's going on. As they open their front door though they see the Duchess waiting for them. She follows them to the festival.
In the Dead Moon Circus the Amazon Trio are looking at a photo of the Duchess. Hawkseye and Fisheye are discussing the news report and ponder if she really is sick. Hawkseye decides to target her.
At the festival the Duchess sees a boy screaming at his mother to buy him a balloon. She walks over and gives him one form the ballon stand. All the other children see her do this and ask for one. She obliges and begins handing out all the balloons.
The owner of the stall gets angry and asks for money. Hawkseye walks up and tries to save her to get her trust but his interference results in all the balloons floating away.
Rubena runs away and comes across Darien who tell her he knows who she is and that perhaps she should return to her hotel and face her responsibilities. Serena and Rini find them. Rubena is obviously attracted to Darien. Darien says goodbye and walks around the corner to meet Artemis, Luna and Diana who suspect that she may be a target.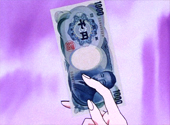 Rini and Serena take Rubena to watch the fireworks. While looking at the fireworks, Rubena sees Hawkseye watching her and confronts him, assuming he's form the hotel and come to take her back. She tells him that she's going to return anyway as soon as the fireworks are over.
Hawkseye reveals his true form and straps her to the usual panel and looks into her Dream Mirror. Serena and Rini who had come looking for Rubena see this happen and transform.
Hawkseye summons the Lemres, Elephanko who appears atop an elephant. She begins talking super fast and claims to be the sister in law of the Lemres that appeared in Episode 140.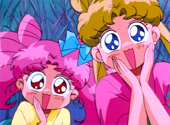 She performs the circus trick of having the elephant stand on her but she eventually begins to feel the strain and tells the elephant to get off. Hawkseye yells at her to attack them and tries to retreat but the elephant has tried to leap through his portal and has blocked it. Hawkseye pushes and pushes and eventually pushes the elephant through and escapes.
Elephanko chases Super Sailor Mini Moon and Super Sailor Moon all over the place. Tuxedo Mask arrives and throws a rose on the ground to stop her but his rose is quickly run over before he can even finish his speech.
Tuxedo Mask uses his cane and hits the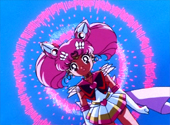 Lemres as if it were a snooker ball. Super Sailor Mini Moon quickly summons Pegasus with Crystal Twinkle Bell and Super Sailor Moon destroys her with Moon Gorgeous Meditation.
Afterwards Darien, Serena and Rini drop Rubena off on the way to her hotel. She thanks them for everything and thinks to herself how happy she is to have experienced just a day of true freedom.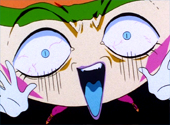 Monster of the Day

Elephanko was another cool inflatable Lemres and was related to the Lemres in Episode 140.

She had a rather solid yet flexible body and could bounce and roll at a very fast speed. Eventually she was defeated by Super Sailor Moon's Moon Gorgeous Meditation.






Interesting Facts

The whole character of Duchess Rubena obviously draws a lot of inspiration from the Audrey Hepburn movie, Roman Holiday
who's main character features almost the exact character design and an identical storyline.

While many fans may assume that seeing Serena and Rini dressed up in Yukata (Summer Kimono) is simply fan service, such a custom is actually still very common and popular among Japanese people of all ages during Summer all over Japan.
Shopping Info

Sailor Moon SuperS Vol. 4
<-- Episode 145 -
- Sailor Moon SuperS Main -
- Episode 147 -->
Love Sailor Moon? Sign up for my free Sailor Moon newsletter to stay up-to-date with all of the latest Sailor Moon anime, manga, and merchandise news.