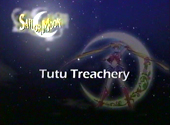 Episode 145
SM SuperS
Tutu Treachery
Jap.145 "Aim for the Prima! Usagi's Ballet"
Serena and Rini see an ad for auditions for the Jazzel Ballet and go to try out!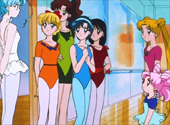 While in the audition they see the woman in the lead role, Kariko being scolded by the director. She seems very upset.
Later that day in Crown, they tell the girls about the audition. Serena made it apparently but Rini was told she was too small. Raye and the others tell Serena they might try as well.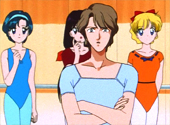 The next day in the ballet studio, all the girls rock up in their own leotards. Fisheye, now targeting the director is also in the studio.
While practicing, the director is fascinated by Fisheye's performance and says she'd be perfect for the lead role. Kariko sees this and is upset.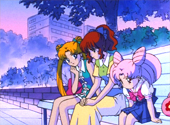 After practice, Serena and Rini see Kariko sitting alone in a park. They talk to her and find out that she's in love with the director and that she wants to make his dream of putting on the best ballet performance come true.
Serena and Rini then sneak back into the studio and see Fisheye flirting with the director, trying to get him to tell her his dream.
Serena and Rini trip over though and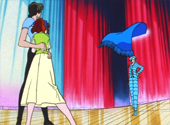 interrupts her plan. Fisheye excuses herself and the director tells Serena that he wants to see her on stage.
The next night on stage, Fisheye is ready for her starring role when the director tells her that he never actually said that she had been given the role only that her dancing was really great. Kariko sees this and runs up to him and embraces him.
Fisheye transforms and straps the director to the usual panel.
Serena and Rini transform.
Fisheye summons the Lemres,
Karumawarrio who distracts them with strange ballet dance tips before attacking them with nut cracking!
Fisheye inspects the director's Dream Mirror, finds no Pegasus and teleports away.
Tuxedo Mask arrives and stops the Lemres with a rose attack.
Super Sailor Mini Moon and Super Sailor Moon then use Crystal Twinkle Bell and Moon Gorgeous Meditation to defeat the Lemres.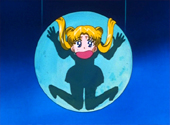 Later on as the show's started, Rini sits in the audience with Raye, Mina, Amy and Lita and tells them that Serena's role isn't what they thought it would be and that tonight she's the "Moon Princess".
They all look on stage and see Serena actually in the Moon.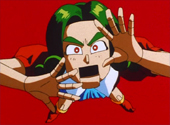 Monster of the Day

Karumawarrio was an obvious homage to the famous ballet, The Nutcracker with his appearance and even his nut cracking attacks being obvious references to it.

He was defeated by Moon Gorgeous Meditation.






Shopping Info

Sailor Moon SuperS Vol. 3
<-- Episode 144 -
- Sailor Moon SuperS Main -
- Episode 146 -->
Love Sailor Moon? Sign up for my free Sailor Moon newsletter to stay up-to-date with all of the latest Sailor Moon anime, manga, and merchandise news.