Episode 141
SM SuperS
Double Trouble
Jap.141 "Storm of Love! Minako's Grand Two-Timing Plan"
All the girls are in Crown talking about Mina. Rini says that she saw Mina with a very studious boyfriend. Diana who's looking out the window comments that Mina's boyfriend doesn't look like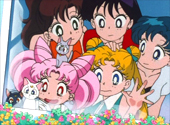 that at all.
They all go over to the window to look and see Mina with a cool biker guy.
When Mina comes in they confront her and she admits that she's dating two guys at the same time. The girls tell her that it's not fair to either guy but Mina doesn't seem to understand and just seems happy to be dating two hot guys who could potentially turn out to be her true love.
At the Dead Moon Circus big top Tigerseye (the biker) returns. Hawkseye (who is Mina's other boyfriend) asks him how he's going. Tigerseye tells him that he'll get her dreams soon. Hawkseye tells him that he'll get her dreams first.
That night Rini talks to Pegasus who tells her that in life one must experience a lot of people to find out which one is your destiny.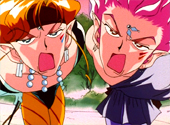 The next day all the girls follow Mina as she goes to meet one of the guys. Hilariously she's accidentally arrange a date with both guys at the same time.
She decides to have a date with them both and keeps them busy seeing movies, buying drinks and waiting for her to "make a phone call" until she's finally caught out and Tigerseye and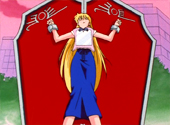 Hawkseye see each other.
They both become furious and reveal their true forms.
Mina is shocked and dramatically accuses them of deceiving her. They both tell her that she was deceiving them as well.
They strap her top the panel, summon her Dream Mirror and fight to inspect her dream. The pull and tug at the mirror, hurting Mina who screams out for them to stop. They finally realise that Pegasus isn't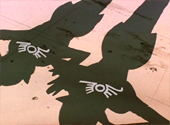 in her dream.
Super Sailor Moon and the others appear and try to rescue Mina. Hawkseye and Tigerseye summon two Lemres, Hyptanko and Bakanko to take care of them.
Artemis runs over to Mina who struggles against her restraints and actually breaks free all by herself! She then transforms into Sailor Venus and attacks Hawkseye and Tigerseye with Venus Shower. They both retreat.
Super Sailor Mini Moon then summons Pegasus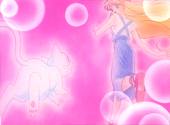 with Crystal Twinkle Bell and Super Sailor Moon then defeats the two remaining Lemres with Moon Gorgeous Meditation.
Later on Artemis talks to Mina. Mina realises that there's no rush to find true love and that she has all the time in the world.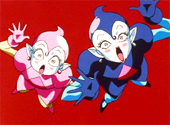 Monster of the Day

While two separate Lemres, Hyptanko and Bakanko had an obvious physical resemblance to each other suggesting some relation. They were gymnasts and were defeated by Super Sailor Moon's Moon Gorgeous Meditation.






Interesting Facts

While the attack wasn't given a specific name in this episode (in English or Japanese), it was obviously Sailor Venus' Venus Shower which was last seen way back in Episode 46 of Sailor Moon R (almost 100 episodes ago!).

This episode premiered the new second closing credits featuring the song, Rashiku" Ikimashou.

The film Mina took Hawkseye to se, Gazula was obviously a reference to Godzilla and Gamera.
Shopping Info

Sailor Moon SuperS Vol. 3
<-- Episode 140 -
- Sailor Moon SuperS Main -
- Episode 142 -->
Love Sailor Moon? Sign up for my free Sailor Moon newsletter to stay up-to-date with all of the latest Sailor Moon anime, manga, and merchandise news.