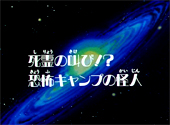 Episode 183
Sailor Stars
The Screams of Dead Souls! Terror of the Camp Monster

In a small house in the middle of a forest an artist becomes frustrated with his pottery making and begins to smash everything. Suddenly Sailor Aluminum Siren enters and removes his Star Seed, turning him into a Phage.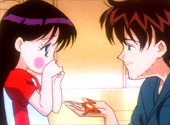 Coincidentally Serena, Raye, Mina, Amy, Lita and Chibi Chibi are on their way to visit that man who happens to be Ray's cousin. Raye tells the girls how when he's in a slump he breaks everything. Serena, while chasing Chibi Chibi on the train knocks over the snack cart. Mina says that Serena must be in a lifelong slump.
Raye explains that her cousin had given her her bird pendant when she was a young girl which she takes out and shows them.
At the lake where they're headed, the Three Lights
are filming a Power Ranger like show where they defeat a lake monster.
When the girls arrive at the camp they meet a police officer who warns them to be careful as something has been ravaging the camp grounds. The girls don't worry too much about it and change to go swimming in the lake. Serena and Mina quickly begin splashing each other as something mysterious begins swimming towards them.
Amy sees it and yells out to Serena to watch out but Serena can't hear her over her splashing. Amy begins to move into the water but she's too late. The swimming figure surfaces and scares Serena and Mina. Luckily it's Seiya, Yaten and Taiki.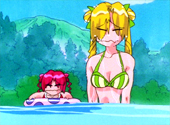 They all sit down and begin talking about the show the Three Lights are making. The girls tell them that someone has been ravaging the camp sites and Seiya tries to scare Serena by making it sound worse than it is.
Elsewhere Raye has gone to visit her cousin but finds his house in disarray and him missing.
That night as the girls are sitting around the
fire Yaten and Taiki join them. Suddenly the monster that had been ravaging the camp appears and starts destroying everything. Yaten and Taiki think it's Seiya (as they had planned) in the costume from their shoot and pretend to be scared. The girls meanwhile run for their lives with the monster running after them.
Seiya, in costume only now just arriving sees the girls running and wonders what's up. He gets to the camp and Yaten and Taiki tell him that he was just there and that he's done enough. Seiya is confused.
While running, Raye trips and falls over, her pendant falling off from around her neck. Serena stops to help her. The two transform into Super Sailor Mars and Eternal Sailor Moon. The monster begins to attack them with pottery projectiles. Sailor Mars begins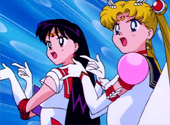 to suspect that the monster is her cousin, Kengo.
The Phage picks up her pendant and goes to destroy it. Sailor Mars pleads with him not to destroy it. The Phage seems to remember Raye asking him not to destroy it in the past and holds his head. The quickly snaps out of it though and becomes angry again.
Sailor Mars attacks him with Mars Flame Sniper and hits him right in his stomach where his projectiles come from. She then yells at Sailor Moon to heal him.
Sailor Moon uses Starlight Honeymoon Therapy Kiss which reverts him back to his human form. Sailor Mars runs up and catches him and sees that he's still holding her pendant in his hand and it's okay.
From up in the trees the Starlights watch and comment that the Sailors of
this planet can do what's necessary if left to themselves after all.
Later that night the Three Lights join the girls and Kengo in his cabin. Kengo explains to Raye that he had become lost looking for perfection. Raye smiles as she wears her pendant around her neck.
Outside Seiya is talking to Serena. Suddenly Chibi Chibi opens the door and knocks Seiya on top of Serena. Everyone sees this and is shocked. Serena throws him off and calls him a pervert. Seiya pleads with everything that it's not what it looks like.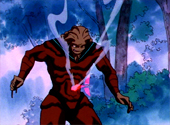 Monster of the Day

This was the first Phage not to be given a name though it could have been called "Sailor Failure" though that's purely a guess. This Phage was also the first one to show some remnant of it's human personality as it was actually fighting with it's dual personalities for a bit in this episode.
This Phage had pottery projectile attacks as well as a giant hammer like attack. It was healed by Eternal Sailor Moon's Starlight Honeymoon Therapy Kiss.



Interesting Facts

This was the first and final time we would see Raye's cousin Kengo. Nice to know she has some family after all. Does that mean she has an Aunt or Uncle somewhere?

With an episode name like "The Screams of Dead Souls! Terror of the Camp Monster" you'd think Sailor Pluto would be featured. She was however nowhere to be seen, making the episode title a bit of a mystery (the "Screams of Dead Souls" part anyway).

It's worth mentioning just how artistic the transformation of the Phage in the opening sequence was. Entirely in shadow, it was really well done.

As is tradition in anime, every season of the Sailor Moon anime has a special Summer swimsuit special episode. This was Sailor Stars'.

This was the first time the Sailor Starlights didn't help in the defeat of a Phage.

Raye's bird pendant looks remarkably like her Firebird attack and one must wonder if this attack was now made through her subconscious or if it's just a coincidence.
Shopping Info

Sailor Moon Sailor Stars
Box Set 1
Read My Review
Buy from Amazon.co.jp
<-- Episode 182 -
- Sailor Stars Main -
- Episode 184 -->
Love Sailor Moon? Sign up for my free Sailor Moon newsletter to stay up-to-date with all of the latest Sailor Moon anime, manga, and merchandise news.