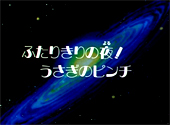 Episode 184
Sailor Stars
A Night Alone Together! Usagi's (Serena's) Pinch

At school the girls are talking about all the break ins that have been happening lately. Serena begins to freak out because her whole family is out of town this week and she's been left alone in the house.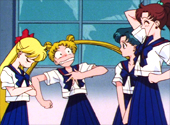 Seiya overhears this conversation and offers to come over and keep her company. Serena happily accepts his offer though the girls assume that Seiya is simply taking advantage of the situation.
That night Serena is cleaning up the house with Luna before Seiya arrives. Luna warns Serena not to let her guard down.
The doorbell suddenly rings. Serena runs to answer it but trips and falls over. Seiya opens the door and sees Serena lying on the floor.
Moments later up in Serena's room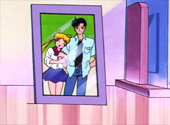 Seiya tells Serena that he has something to tell her and reaches for his Sailor Change Star (the Starlight's version of the transformation pen). Serena simply assumes that he's trying to tell her how he loves her and baks away.
Suddenly Chibi Chibi appears and slams a piece of cake in Seiya's face. Seiya goes to have a shower and thinks to himself that he's now missed his chance to tell Serena he knows who she is and who he is.
While in the shower, Raye, Amy, Mina, Lita and Artemis arrive. As Serena opens the door though, Seiya comes walking out of the shower with a very small towel around his waist. Chibi Chibi runs up to him and begins pulling on the towel, claiming it's hers! All the girls half cover their eyes as Seiya runs away.
Later on they all head to the kitchen to cook dinner but they stop what they're doing when they see a cockroach. Seiya goes to hit it with a slipper but it flies at them and they all freak out.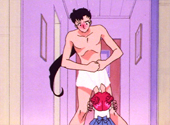 The doorbell then rings and Yaten and Taiki enter and see them all covered in food.
After they all get cleaned up they all sit down to play a game of cards.
Nearby Amara and Michelle are driving in their car when Amara's car breaks down. They realise they're close to Serena's house and decide to drop by for a visit. Serena's happy to see them both but when Amara and Seiya see each other, tension is created.
They all sit down and Amara and Seiya begin a tense argument. Suddenly the doorbell rings. Serena goes to answer it and is shocked to see an entire tv crew outside who have heard the Three Lights are here and want to do a show about what they're eating for dinner, in this case take away pizza.
Serena tells Mina to keep them busy while they all hide Seiya, Yaten and Taiki. Serena takes Seiya upstairs and together with Chibi Chibi they cram into a cupboard. Seiya tries to tell Serena who he is one more time but Serena keeps thinking he's making a move on her and calls him perverted.
Eventually they hear screaming. Serena runs down stairs and sees that Sailor Aluminum Siren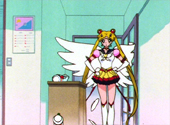 and Sailor Lead Crow have invaded the house and have knocked out the entire crew, stuck Mina to the wall and targeted the manager. Serena runs around the house looking for a place to transform but keeps running into everyone else who is still hiding.
Eventually she goes to the attic and transforms into Eternal Sailor Moon.
Downstairs Sailor Uranus and Neptune have transformed. Funnily enough Aluminum Siren sees the pink petals that always announce their presence and comments on how pretty they are. She then tells them how rude they are for wearing shoes on the dinner table and then escapes with Lead Crow.
The manager transforms into Sailor Sommelier. Neptune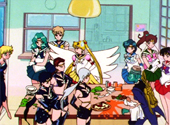 attacks him with Neptune Deep Submerge but he simply swallows it.
Eternal Sailor Moon goes back downstairs and confronts the Phage but hilariously keeps breaking things with her wings. She attacks him with a pizza version of Moon Tiara Magic to distract him from a distance.
Sailor Mars, Mercury and Jupiter then also arrive as well as Star Maker, Star Healer and Star Fighter. Mina is still trapped on the wall.
Star Healer goes to attack with Star Gentle Uterus but is stopped by Mars, Mercury and Jupiter who yell that
if she uses that attack she'll destroy the room.
Sailor Moon quickly uses Starlight Honeymoon Therapy Kiss and heals the Phage.
Sailor Neptune and Uranus decide to leave as do the Star Lights though Seiya comes back later.
Much later on after having cleaned the entire house the girls, Serena and Seiya hear something in the house. They all think it could be the robber they had heard about and go to look. They see a small figure in the hallway and imagine it's a monster. They all dive onto it but are shocked to see it's Chibi Chibi who's just eating cake. Serena laments that she has to clean up yet again.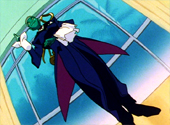 Monster of the Day

Sailor Sommelier was a cool Phage that had the ability to swallow some attacks like Sailor Neptune's Neptune Deep Submerge.
He was eventually defeated by Eternal Sailor Moon's Starlight Honeymoon Therapy Kiss where he unusually yelled out "Gochisousama Deshita" ("What a great meal") instead of "Beautiful!".



Interesting Facts

This was the first time Amara, Michelle, Seiya, Yaten and Taiki had been in Serena's house and was also the first time any of the characters had transformed in it, including Serena.

Keeping the tradition of using Moon Tiara Magic at least once every season, Eternal Sailor Moon used the attack in this episode though without a tiara in her current form, was forced to use a pizza. This would be the final time the attack would be seen in any form in the anime.

Something rather interesting to note in this episode is that the photo in Serena's bedroom has changed. It used to feature herself, Darien and Rini but now just features herself and Darien. Could the future have been changed with Darien's death and Rini no longer exist? Or is it simply a blooper?
Shopping Info

Sailor Moon Sailor Stars
Box Set 1
Read My Review
Buy from Amazon.co.jp
<-- Episode 183 -
- Sailor Stars Main -
- Episode 185 -->
Love Sailor Moon? Sign up for my free Sailor Moon newsletter to stay up-to-date with all of the latest Sailor Moon anime, manga, and merchandise news.