Manga
Sailor Mars' Transformation Pen
First Manga Appearance
Act 3 (New Manga #1) / Act 3 (Original Manga #1)

See Also
anime - musicals - live action

Sensing Rei was in fact Sailor Mars, Luna gave Sailor Mercury Mars' transformation pen to take with her when she went to help Sailor Moon and Rei who were trapped in a pocket dimension in a battle with Jadeite.
By Luna's instructions, Sailor Mercury threw the pen at Rei who instantly awoke and transformed without saying a word. During transformations that would follow though, Rei would use the phrase "Mars Power Make Up!".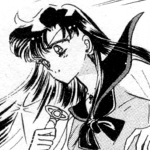 Sailor Mars' pen is identical to Sailor Mercury and Sailor Jupiter's pens.
It also functions as a real pen and features a large gem surrounded by four smaller gems and a large ring, all on the top of the pen.
More information to be added with each manga release....

<-- item guide --
<-- information --

Love Sailor Moon? Sign up for my free weekly newsletter to stay up-to-date with all of the latest Sailor Moon anime and merchandise news.