Manga
Sailor Mercury's Transformation Pen
First Manga Appearance
Act 2 (New Manga #1) / Act 3 (Original Manga #1)

See Also
anime - musicals - live action

Ami received her transformation pen from the Sailor V video game in the Crown Arcade after beating the top score. It's assumed that Artemis, Sailor Venus or the mysterious "Boss" gave it to her through the game.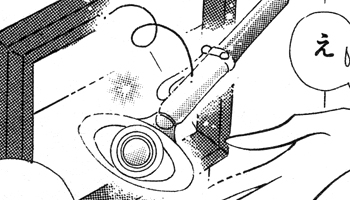 The pen first activated when Ami began to awaken while being attacked by a monster from the Dark Kingdom.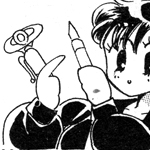 It's visually identical to Sailor Mars and Jupiter's pens and like theirs can be used as a real pen though it is unknown if it has the ability to write what is true, like Sailor Venus' pen.
What is known, is that Sailor Mercury's pen cannot be used to communicate, as evident by her separate communicator item.
The pen is rather basic though has a gem on it's top surrounded by several large rings. Occasionally four smaller gems can be seen around the larger middle one.
More information to be added with each manga release....

<-- item guide --
<-- information --

Love Sailor Moon? Sign up for my free weekly newsletter to stay up-to-date with all of the latest Sailor Moon anime and merchandise news.