Manga
"Sailor Vision" (Unofficial Name)
Also Called
NA
First Manga Appearance
Act 1 (New Manga #1) / Act 1 (Original Manga)
See Also
manga only ability

In Brief: A manga only move and used only once in the first volume of the manga.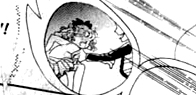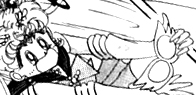 Cultural: "Because of their eye location they can see in back of them, as well as in all directions. Rabbit vision is based on movement."
-- Taken from Cramptonarts.com
The Move: In the early volumes of the manga, Sailor Moon wore a mask which showed her when people were in danger. As she got stronger the mask was thrown away and with them the ability to see when people were in trouble (she could have used this ability in the Stars arc!).

<-- attack guide --
<-- information --

Love Sailor Moon? Sign up for my free weekly newsletter to stay up-to-date with all of the latest Sailor Moon anime and merchandise news.