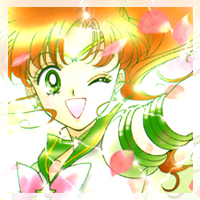 Manga
Sailor Jupiter
Civilian Name: Makoto Kino (Japanese & new English), Lita Kino (original English).
School: Minato Ward Juban Public Middle School.
Other Forms: coming soon with future volumes of the manga.
Items: Transformation Pen, Communicator.
Attacks: Flower Hurricane, Jupiter Thunderbolt.

First Manga Appearance: Act 4 (New Manga #1) / Act 4 (Original Manga #1).
See Also: anime - musicals - live action

Makoto Kino had a very hard life with her parents passing away and leaving her alone to look after herself. As an orphan she quickly developed impressive culinary skills which evolved into a true passion for cooking, food preparation and other domestic duties.
She first meets Usagi and the others after transferring to Minato Ward Juban Public Middle School from her old school.
It's soon revealed that while Makoto considered transferring because of the emotional pain of being rejected by an older student, the real inspiration for the move was a sense that something more important was waiting for her, suggesting that she had begun to remember her past life and awaken as a Sailor Guardian well before Sailor Moon, Sailor Mercury and Sailor Mars.
Makoto fully awoke as Sailor Jupiter when Motoki, the video arcade guy, was possessed by the enemy. Makoto seeing a resemblance between him and her previous crush allowed herself to be seduced by him though once Sailor Moon and the others arrived and revealed that he and the possessed bride creature had been using people, Makoto defended herself by throwing the "bride", seemingly destroying it. Suddenly the symbol of the planet Jupiter began glowing on her forehead, symbolising her awakening.
Luna threw Makoto her Transformation Pen which quickly transformed her into the Sailor Guardian of Thunder and Courage, Sailor Jupiter. Sailor Jupiter immediately attacked Nephrite, who had been watching, with both her Flower Hurricane and Jupiter Thunderbolt attacks, destroying him.
More information to be added with each manga release....

<-- character guide --
<-- information --

Love Sailor Moon? Sign up for my free Sailor Moon newsletter to stay up-to-date with all of the latest Sailor Moon anime, manga, and merchandise news.