Sailor Moon
Sailor Stars Vol. 6
Here it is! The DVD with the most searched for Sailor Moon episodes of all time! Contained on this DVD are the final five episodes featuring the death of, well... almost everyone! Oh, and Sailor Moon fights in the nude. ;)
Buy from Amazon.jp
Cover
I really love this cover. It was a very well rendered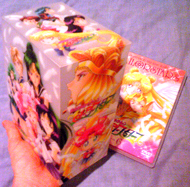 pic of Eternal Sailor Moon and Sailo Galaxia in a tight embrace and has been spiffed up with lots of extra stars and a nice pink foil print for the title which looks amazing against that orange background! Definitly one of the best covers released and as with all previous releases in the Stars season, all first printings of this volume come with a puzzle of the cover image. First printings of this volume specifically come with a very nice box to keep all your Sailor Stars DVDs in. The box features new artwork made specifically for this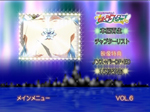 release which includes all the characters featured in this season.
The Menus
I'm honestly a bit underwhelmed with this menu. It's exactly the same as of hoping for menus like Pioneer did with the SuperS series. Don't get me wrong. It's very functional Vol1's menu with the exception of the screen in the top left corner showing clips from the episodes on this volume rather than the last one. I guess I was kind
and easy to navigate... it's just a bit boring basically.
The Special Features
As with previous volumes we get the next episode previews (four here, each with a 15 second running time), the second opening credits without text and completely remastered (it looks incredible!) as well as the final episode's exclusive ending credits with text removed and also touched up! It really doesn't look like much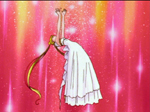 written here, and it's not but it is really what you'd expect and that final episode ending kicks arse!!!
The Episodes
I have to say it. This DVD of Sailor Stars has the episodes with the best animation out of all five seasons of Sailor Moon and the movies and specials! The animation is so fast and slick (especially in the last 2 episodes with the Sailor Starlights and Eternal Sailor Moon!) and the remastering superb! I can't express how amazing the picture quality is on this disk. Especially considering the age of the series! Wow!
As for the episodes themselves, if you are a fan of Sailor Moon or anime in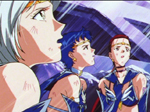 general, you owe it to yourself to get this DVD!
Episode 196 begins the clix of the anime with the death of the Inners while Episode 197 not only reveals how Tuxedo Mask died but also features the death of Sailor Pluto and Sailor Saturn!
Episode 198 contains one of the saddest deaths in the series, that of Sailor Uranus and Neptune.
The following episode, Episode 199 is a very epic prelude to the grand finale in Episode 200 which has everything a Sailor Moon fan could want in a final episode, drama, action, great animation, humour, plot... you name it!!!
I don't know what else to say! Every episode is a must see! If you have to buy just one Sailor Moon DVD, make it this one!
Buy from Amazon.jp

<-- sailor moon sailor stars dvd main --
Love Sailor Moon? Sign up for my free Sailor Moon newsletter to stay up-to-date with all of the latest Sailor Moon anime, manga, and merchandise news.