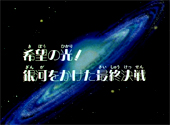 Episode 199
Sailor Stars
The Light of Hope! The Final Fight for the Galaxy

The voice of Princess Kakyu recounts once more how a long time ago Sailor Soldiers fought the evil forces to maintain peace throughout the galaxy and how the strongest Sailor Soldier had an epic battle with the source of all evil,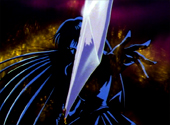 Chaos and defeated it by sealing it within her own body.
In the present Sailor Galaxia announces that she is the same legendary Sailor Soldier.
Sailor Star Fighter attacks her with Star Serious Laser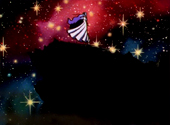 but Galaxia blocks it easily.
Sailor Galaxia holds her recently summoned sword and and plunges it into the ground. A shadow spreads from it and engulfs Eternal Sailor Moon, giving her a vision of how Galaxia had sealed Chaos within her own body and then realised that it was getting more powerful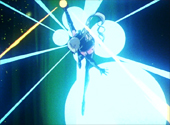 within her body she released her own Star Seed into the galaxy to be safe from Chaos' influence.
Elsewhere a mysterious woman in a dress and long hair stands on a cliff.
Eternal Sailor Moon asks Galaxia if there was no other way, if she had to fight the battle all by herself and asks her what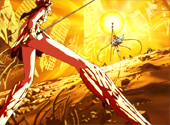 would have happened if everyone gathered to fight the battle instead.
Sailor Galaxia blasts the entire building sending half of it sliding down. They all fall through space. Sailor Moon reaches for Sailor Chibi Chibi Moon and saves her. They both smile at each other.
The Sailor Starlights stand and tell Galaxia that for their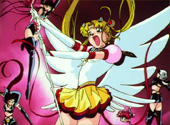 princess and all of their fallen comrades they will fight Galaxia. They attack with a combination of Star Serious Laser, Star Gentle Uterus and Star Sensitive Inferno and actually manage to blast through Galaxia's force field and hit her. Blood trickles down her side.
Eternal Sailor Moon tells Galaxia that she believes in her and that her true self doesn't want this. She holds up her Moon Power Tiare which extends into it's full staff form. It begins to glow as she yells out "Silver Moon Crystal Power!".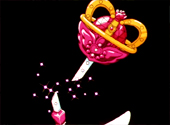 A golden glow engulfs Sailor Galaxia and seems to be working but Galaxia flies towards Sailor Moon and slices the Moon Power Tiare into pieces.
Again, that mysterious woman is shown staring into space.
The Starlights then ask their princess to lend them her power for their final battle and announce that they're going to take Galaxia down even if it means sacrificing their own lives. Sailor Star Fighter tells Eternal Sailor Moon that she believes in Sailor Moon and that she is not meant to be destroyed.
The three Starlights then blast towards Sailor Galaxia and battle her across the entire galaxy. Sailor Moon watches as their lights light up the entire cosmos.
Unfortunately they're not strong enough and Galaxia fights them back and sends them crashing to Earth.
Galaxia tells them that she was going to take their Star Seeds but now she will
simply kill them.
Eternal Sailor Moon steps in front of the Starlights and releases her Star Seed, the Silver Crystal from her chest. It begins to glow a radiant glow. Sailor Galaxia comments on how it is the most powerful Star Seed in the galaxy and before anyone can do anything she slices it with her sword and rips it from her chest.
Eternal Sailor Moon screams as pink ribbons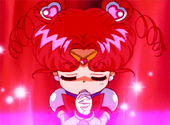 surround her and her body falls to the ground.
Sailor Chibi Chibi Moon begins to cry and a tear hits the ground, mystical waves emanate from her as a cosmic red butterfly flies past.
Princess Kakyu's voice tells the Sailor Starlights to believe. The Light of Hope is awakening.
Interesting Facts

This was the first time Eternal Sailor Moon used the phrase "Silver Moon Crystal Power!" though the move was identical to what she did to heal Queen Nehelenia in Episode 172. Even the music was the same. While it's speculation that the move is the same, it's a pretty close bet that it is.

The Moon Power Tiare was destroyed in this episode.

There was a nice reference to the season one finale, Day of Destiny in this episode. Where in that episode the Moon Princess' companions supported her from beyond the grave in this episode the Starlight's Princess Kakyu communicated with them after her passing.

This episode was the final time the Second Sailor Stars Closing Credits would be used. The next episode, the final episode, has something special.
Shopping Info

Sailor Moon Sailor Stars
Box Set 2
Read My Review
Buy from Amazon.co.jp
<-- Episode 198 -
- Sailor Stars Main -
- Episode 200 -->
Love Sailor Moon? Sign up for my free Sailor Moon newsletter to stay up-to-date with all of the latest Sailor Moon anime, manga, and merchandise news.