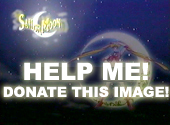 Episode 151
SM SuperS
Heartfelt Melody
Jap.151 "True Power Explodes! Ami's Song of the Heart"
It's almost Autumn and Amy is outside listening to a piece of music and writing in a book.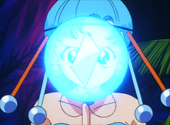 All the girls suddenly appear ut of nowhere and ask her what she's doing. They look at the book and Amy tells them that she's become inspired by the writer's music and has been writing her own lyrics for his songs.
She explains how she got the music off of an online server and that the mysterious composer only goes by the initials TN.
In the Dead Moon Circus the Amazoness Quartet are chasing Zircon. As soon as the capture him though Zirconia appears and zaps them with an energy ball. He then gives them the photo of their new target, but it's all static.
They head to their spa and ponder over
who the target is. Para Para uses her magic to give them a clue and the music Amy has been listening to begins to play. They conclude that their target is a musician of some kind.
Meanwhile at Amy's place, Amy has received a package from her father. It contains no letter, just a pencil sketch of a beautiful lake and mountains. Amy thinks of how much getting these artworks means to her and that while her father doesn't ever write, she knows that he is in an amazing place. She then ponders how she has become inspired by both her father and TN.
That night after talking in Crown Fruit Parlor, Amy and the girls walk past a bar and hear the music! They look through the window and realise that the man playing the piano must be TN!
Inside the bar, Besu Besu sits and has come to the same conclusion.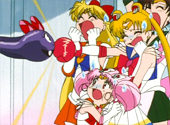 Amy and the girls meet him outside and introduce themselves. The man tells them his true name is Toshiyuki Ishido and he immediately recognises Amy from online and invites them all back to his studio.
Besu Besu, who had been waiting for her chance, follows them.
Once they all get to his studio they see a small girl, Victoria who had just finished a piano lesson. They all say goodbye to her.
Toshiyuki introduces them all to his partner
Kyokyo. They all site down and start talking. Amy had mentioned that she wrote lyrics for his songs but when he asks to see them she gets nervous and runs away. The other girls run after her.
While they're gone, Besu Besu sees her chance and pins Kyoko to a wall with knives and reveals Toshiyuki's Dream Mirror.
Serena, Raye, Lita, Rini and Mina hear the commotion and transform. Amy also runs back, though only in her civilian form.
Besu Besu summons her Lemres, Kero Kero who appears as a cute tadpol but quickly transforms into a deadly adult form. All the girls quickly get blasted by some energy attack and sent into Toshiyuki's computer.
As soon as they realise where they are, Besu Besu shocks them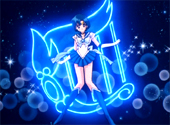 with one attack after another, causing the untransformed Amy to pass out.
Amy's mind drifts inwards where the spirit of her Sailor self comforts her and tells her to believe in herself and her own strength. As Amy realises she's surrounded by her father's painting of the lake and Toshiyuki's music she realises she has the strength and transforms in to Super Sailor Mercury.
She then calls on the power of the pure water to give her energy and uses her new attack, Mercury Aqua Rhapsody. The power of the attack frees them all from the computer.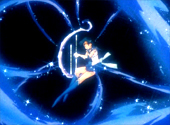 Super Sailor Mini Moon and Super Sailor Moon then use Crystal Twinkle Bell and Moon Gorgeous Meditation to defeat the Lemres.
Besu Besu teleports away.
Later on, Amy shows Toshiyuki her lyrics and he loves them! Everyone's happy.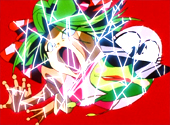 Monster of the Day

Kero Kero was Besu Besu's second Lemres and featured two forms, both of which didn't do that much honestly.

She was defeated by Super Sailor Moon's Moon Gorgeous Meditation.






Interesting Facts

This was the first time we had really heard any reference to Amy's father who we assume has left her and her mother.

Super Sailor Mercury finally got her new attack, Mercury Aqua Rhapsody in this episode!

While Amy had transformed into Super Sailor Mercury before this was the first time we had seen her new transformation sequence.
Shopping Info

Sailor Moon SuperS Vol. 4
<-- Episode 150 -
- Sailor Moon SuperS Main -
- Episode 152 -->
Love Sailor Moon? Sign up for my free Sailor Moon newsletter to stay up-to-date with all of the latest Sailor Moon anime, manga, and merchandise news.