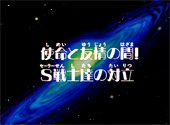 Episode 189
Sailor Stars
Torn Between Duty and Friendship! Confrontation Between Sailor Soldiers

Serena and the girls are still in shock over the Three Lights being the Sailor Starlights. They all realise that while they thought they were friends they never really knew much about them and they never shared who they really were with the Three Lights either.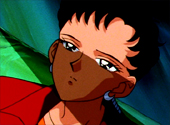 In their studio, the Three Lights are also pondering over what to do now. Seiya feels bad about deceiving Serena and wants to see her but Yaten and Taiki reminds him that their mission is to find their own Princess and that they can only have one.
Taiki suggests that it's a good thing the Sailor Scouts are here as Galaxia will focus on them and give them a chance to continue their search uninterrupted. Seiya finds this repulsive and reminds him that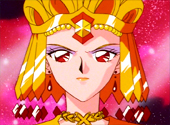 these people are fighting for their planet as well.
Sailor Galaxia meanwhile commands Sailor Tin Nyanko who's taken over from the recently deceased Sailor Aluminum Siren and Sailor Lead Crow to continue their search for true Star Seeds. She tells them that she's sensed a strong power coming from the planet Earth and wants them to find it.
Sailor Tin Nyanko wastes no time and begins cleaning out Aluminum Siren's things from her desk. She thinks to herself how useless Lead Crow will be. Lead Crow then demands to know what Tin Nyanko is doing to Aluminum Siren's desk. Tin Nyanko replies that she shouldn't worry about her because unless she can get a Star Seed she will end up like Aluminum Siren. Lead Crow screams out loud and storms off.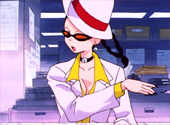 Tin Nyanko thinks again how useless Lead Crow is.
At a shopping centre, Raye has been given a fortune telling job by her grandpa. Her first customer happens to be Seiya who doesn't recognise her in her costume. He asks for advice on what to do with Serena who he feels he lied to. Raye tells him that he should first and foremost be honest with her and then see what happens. Seiya loves this advice. He thanks her and then leaves.
Just as Raye begins to relax, Serena enters, doesn't recognise Raye and asks for advice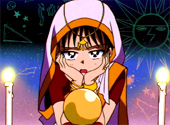 on someone she loves. Raye asks if it's about her boyfriend and Serena tells her that no, she doesn't question how she feels about him. Raye is relieved.
Serena then asks what she should do about Seiya. Raye tells her to stop thinking about it and just do what she thinks is right. She reveals herself and tells Serena not to worry so much as it's unlike her.
Serena then goes to the radio station where the Three Lights are recording a show. Seiya sees her watching them and dedicates a song from himself to her using alias'. Taiki and Yaten aren't happy.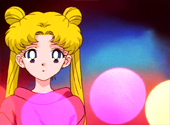 After the show Serena thanks Seiya for the dedication and blushes. Yaten and Seiya interrupt them and tell Serena to stay away.
They're all interrupted by the DJ's scream who had been attacked by Sailor Lead Crow out in the alley. He has his Star Seed expelled from his body and transforms into the Phage, Sailor DJ.
Serena transforms into Eternal Sailor Moon but is attacked by the Phage who throws a razor sharp disk at her which destroys a nearby vending machine. Sailor DJ fires another disk but it's destroyed by Sailor Mars' Mars Flame Sniper. Eternal Sailor Moon then uses Silver Moon Crystal Power Kiss to heal the DJ. Sailor Mars, Venus, Jupiter and Mercury surround Moon to protect her but she tells them that she can't keep running away.
Behind them Sailor Tin Nyanko takes aim at
Sailor Moon with a paw bazooka and fires. Seiya runs up to everyone and takes the blast for Sailor Moon, severely injuring himself. Sailor Star Maker and Star Healer attack with Star Gentle Uterus and Star Sensitive InfernoSailor to break up the fight. Lead Crow demands to know what she's doing here to which Tin Nyanko replies that she simply didn't trust Lead Crow to do the job well enough. They both quickly teleport away in Sailor Iron Mouse's phone booth.
Star Maker and Star Healer pick up Seiya and tell Serena that she's to blame for him being hurt and tells her to stay away from them. They walk away leaving Serena in shock.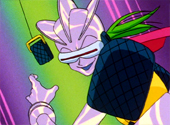 Monster of the Day

Sailor DJ, another rare male Phage, had a very cool and dangerous razor disk projectile attack but he was no match for Sailor Moon and the Inners. Like so many other Phages he was defeated by Silver Moon Crystal Power Kiss.



Interesting Facts

Star Gentle Uterus was given a visual upgrade in this episode with a very cool new animation sequence.

The song Seiya requests for Serena was "Nagareboshi He" (Towards the Shooting Star).

The radio station, FM No.10 had been seen before in the series way back in the season one episode, Talk Radio and is part of a running joke/reference in the series involving the number 10.
Shopping Info

Sailor Moon Sailor Stars
Box Set 2
Read My Review
Buy from Amazon.co.jp
<-- Episode 188 -
- Sailor Stars Main -
- Episode 190 -->
Love Sailor Moon? Sign up for my free Sailor Moon newsletter to stay up-to-date with all of the latest Sailor Moon anime, manga, and merchandise news.