Episode 108
Sailor Moon S
Everything's Coming Up Rosey
Jap.108 "Usagi's Dance, in Time to a Waltz"
It's a hot day and Serena and the girls are doing some studying in Darien's apartment. Darien suspects that they're here just for the air conditioning but Raye says that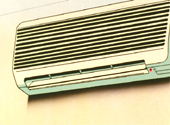 she likes his herbal ice tea too but this doesn't make Darien feel any better.
Suddenly they hear someone at the door so Serena goes to answer it. As she opens the door, she's shocked to hear that the man speaks French! She tries her best to say that she doesn't speak French but luckily he speaks English and tells her that he's a friend of Darien's.
Darien invites him in and the man invites them all to a party at a mansion. Amy thinks it's a great idea as it's a great way to interact with people from other countries and cultures.
Serena is happy to go as it's a party and will be with Darien but she becomes uneasy when she realises that most of the conversations will be in French.
At the Heart Snatcher's base, Eugeal's computer ironically targets Darien's friend. She leaves straight away and exits via a pond, startling two onlookers.
At the night of the party the girls all dress up. As they enter though Darien's friend introduces the girls to several young men. Serena panics and runs away to look at her phrase book but the men actually speak English and become fast friends with Raye, Mina, Lita and Amy.
As luck would have it, Amara and Michelle are playing the piano and violin at the party. During their break, Michelle dances with Darien and the two talk about his friend and all the good he's done.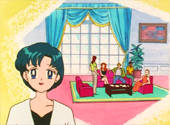 Amara meanwhile becomes a very popular dance partner and men and women start fighting over who gets to dance with her next.
Serena, feeling nervous, drinks a lot of "juice" and begins to speak rubbish and stumble around. She gets lead outside and all the girls panic over her condition.
Darien's friend joins them and tells them about the garden and that his dream is for a peaceful world with understanding. Amy says that she wishes everywhere was as peaceful as this mansion.
In the kitchen Darien sees a waiter about to open a door with blue gas seeping under it. He yells for the man not to open it but it's too late, the gas seeps out and spreads throughout the mansion knocking everyone out.
Eugeal appears and zaps the owner of the mansion and takes his Pure Heart Crystal. Amara and Michelle transform and take the crystal from her but realise it's not one of the ones they're looking for and return it.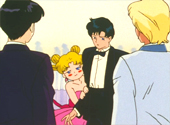 Sailor Moon and the other Sailor Scouts appear, causing Eugeal to summon the latest Heart Snatcher to deal with them while she escapes.
The musical Heart Snatcher, Chiquan appears but trips over her formal dress that she's wearing. After being attacked by Uranus World Shaking it falls off though and she blasts them all with her powerful blue rose energy attack.
She then continues her attack with super large physical musical note projectiles and then a sonic musical attack. Luckily Tuxedo Mask arrives and destroys her record with a rose attack. Sailor Moon then uses Moon Spiral Heart Attack which defeats her.
Moments later the party continues and all the girls begin to fight over who Amara will dance with next. Amara's already left though and watches on from outside as Sailor Uranus with Sailor Neptune.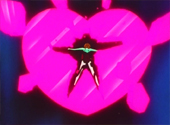 Monster of the Day

Chiquan featured a volley of different attacks such as her blue rose energy beam attack, giant musical note attack and a powerful sonic attack that disabled the Sailor Scouts.

Keeping with tradition she was destroyed by Sailor Moon's Moon Spiral Heart Attack.






Interesting Facts

In the original Japanese version, Darien's friend was British and naturally spoke English as did the other non-Japanese in this episode. Unfortunately all the English was spoken by Japanese voice actors and in a deliberately non realistic style as is typical of Japanese television even today.






Shopping Info

Sailor Moon S Vol. 3
<-- Episode 107 --
-- Sailor Moon S Main --
-- Episode 109 -->
Love Sailor Moon? Sign up for my free Sailor Moon newsletter to stay up-to-date with all of the latest Sailor Moon anime, manga, and merchandise news.