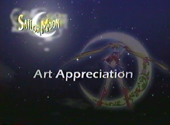 Episode 107
Sailor Moon S
Art Appreciation
Jap.107 "Art is an Explosion of Love! Chibi Usa's First Love"
Serena is hungry and looking around the house for some food. As she looks in the kitchen she sees a freshly baked apple pie in the oven and decides to take it up to the girls in her bedroom to eat.
Moments later Raye, Amy, Mina and Lita have all taken a slice and begun eating it but are interrupted by Rini who comes in asking if anyone had seen the apple pie she had baked.
Seeing all of them eating it she becomes furious and tells them that she made it as a present for someone. While the girls feel guilty for eating it they very quickly place the blame on Serena and tell her to bake her another one.
Later that day as Rini walks to school by herself she thinks about the boy she likes, Masanori. Suddenly she sees him and begins to walk towards him when she sees Michelle, their art teacher and stops and hides behind some bins. Masanori gives Michelle a bouquet of flowers and Michelle thanks him and gives him a little kiss. This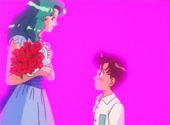 makes Rini furious.
As the class starts Rini sits next to Masanori to make her sculpture. He asks her what she's making and Rini says she's making a sculpture of something she saw in her in her mother's bedroom (the Purity Chalice!). Masanori gives her a hand and makes it exactly the way it's supposed to.
Much to Rini's frustration, Serena arrives and tries very obviously to help Rini get a date with Masanori but all she does is annoy Rini.
In the back room Michelle is finishing off a painting as she talks to Amara. Amara asks her where she got the roses from and she tells her about Masanori and how he gave
them to her.
Suddenly Eugeal drives her car right through the building's walls and destroys the classroom! Amara and Michelle transform.
In the classroom, Serena, Luna and Rini are okay though most of the other students are unconscious.
Eugeal zaps Masanori but Sailor Uranus and Neptune appear and get it.
Frustrated, Eugeal summons the latest Heart Snatcher called The Chiseller and drives away.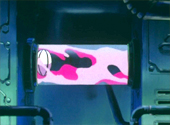 Rini runs out and grabs the Heart Crystal but Uranus and Neptune get it off her. She begs with them to give it back. Luckily it's not the one they're looking for and they give it back to Rini who returns it to Masanori.
Uranus and Neptune then run outside, the Heart Snatcher in hot pursuit, leaving Serena, Luna and Rini alone. Serena and Rini follow the Heart Snatcher and transform once they're outside.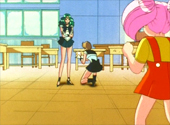 Uranus and Neptune meanwhile are having trouble as The Chiseller creates two extra Heart Snatchers out of sand!
Sailor Uranus chases one towards the river and throws him in. As it hits the water it dissolves. Sailor Uranus runs back and tells Neptune that they're weak against water. Sailor Neptune then attacks the remaining one with Neptune Deep Submerge, which destroys it.
Sailor Mini Moon then attacks the original with Pink Sugar Heart Attack and Sailor Moon with Moon Spiral Heart Attack, reverting it to it's original form, several chisels.
That evening, Masanori gives Rini a small model of her that he made. He then runs away as she thanks him. Serena and the girls tease that Rini has a girlfriend now but Rini simply agrees and says that she does.
Serena says that Rini should thank her for her help but Rini refuses and teases Serena about making another apple pie.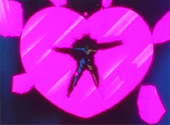 Monster of the Day

The Chiseller was a powerful Monster of the Day with the ability to create energy fields as well as duplicate Heart Snatchers out of sand. Unfortunately for her she, as well as her doubles, had a strong weakness against water which was it's downfall.

It was killed by Moon Spiral Heart Attack.






Interesting Facts

This was the second vision-only appearance of the Purity Chalice. It has yet to appear physically. It was also interesting to know that Rini had seen this in the future in the possession of Neo Queen Serenity yet wasn't aware of what it was.






Shopping Info

Sailor Moon S Vol. 3
<-- Episode 106 --
-- Sailor Moon S Main --
-- Episode 108 -->
Love Sailor Moon? Sign up for my free Sailor Moon newsletter to stay up-to-date with all of the latest Sailor Moon anime, manga, and merchandise news.