Episode 69
Sailor Moon R
Emerald Takes Over
Jap.76 "Power of Evil! Invasion by Esmeraude"
Serena is having a regular day with Luna and Rini as they head to town to do some shopping, but they run into Darien which makes Serena upset and leave.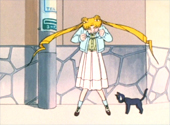 In the future, Prince Diamond tells Emerald that he wants her to go to the past and asks what her plan is. Emerald says that she already has a plan that involves using Dark Wedges that can be placed at several weak points around Tokyo in the past and flood these points with dark energy. As soon as enough energy has contaminated the Earth the Dark Gate can be opened allowing them to fill the entire planet with Dark Crystal energy.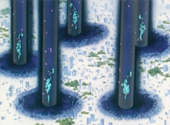 Sapphire, who seems very unenthusiastic, creates the first Dark Wedge for Emerald. Emerald loves it and goes to start her mission.
In the present Amy, Raye, Lita, Mina and Artemis find a cake shop that has just opened and is giving away free cakes! Artemis tells them that it'd be bad for them but Mina simply puts him in his basket and closes the lid. The four girls then go in and immediately begin pigging out.
Nearby, Emerald is trying to locate the first Dark Point and ironically it turns out to be the cake shop! As she enters she decides to check out the cakes and quickly begins eating as many as she can. Serena who has also heard of the cake shop is right next to her easily eating as many, if not more than Emerald.
Both of them stop eating though as soon as they realise everyone in the shop looking at them. Emerald quickly moves to the back of the building in the kitchen and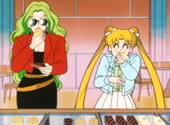 summons the first Dark Wedge which immediately begins filling the place with dark energy. She then summons Droid Masapan to keep an eye on things.
Back out front, Darien and Rini have arrived and is met with anger by Serena who doesn't want to see Rini who has flirted with Darien one too many times. Suddenly the girls begin to notice that all the waiters and staff have begun passing out. Droid Masapan then appears and threatens to defeat them all.
Everyone transforms into Sailor Scouts and tries to attack the Droid, but one after one they're trapped in magical cake attacks. Tuxedo Mask then appears and begins to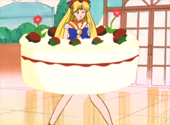 fight the Droid and hints to Sailor Mercury, the last Sailor Scout standing that her water powers may be able to defeat the cake powered Droid.
Sailor Mercury uses Shine Aqua Illusion which severely damages Masapan. Sailor Moon, now free of the cakes finishes the Droid off with Moon Sceptre Elimination.
Back in the kitchen, the Dark Wedge shatters, releasing any dark energy it had deposited.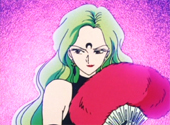 Emerald, furious, appears before the Sailor Scouts and tells them that she's the most beautiful woman in the entire universe and that she won't let anyone ruin her plans! She then begins to laugh so loudly that all the Scouts and Tuxedo Mask are forced to block their ears. Emerald then disappears.
Sailor Mars comments that at least with this new enemy they'll hear her coming.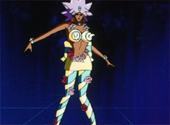 Monster of the Day

Droid Masapan was a return to the fun classic Monsters of the Day with her cake powers probably being the most fun part of this terribly produced episode. While she seemed very resistant to energy attacks, she had a massive weakness against Sailor Mercury's water based Shine Aqua Illusion attack. Eventually she was finished off by Sailor Moon's Moon Sceptre Elimination.







Interesting Facts

Strangely enough this episode appears to have two different English names. On the DVD cover and episode guides it's called "Emerald Bakes Up Trouble" yet in the actual episode, the title screen says it's called "Emerald Takes Over". Very mysterious.

This episode, despite being a proper introduction to Emerald's plans in the present possessed a very inferior plot, direction and animation quality making it one of the worst Sailor Moon anime episodes out of the entire 200 episode series run.

Shopping Info

Sailor Moon Vol. 12
Read My Review
Buy from Amazon.com
/ Amazon.ca
<-- Episode 68 --
-- Sailor Moon R Main--
-- Episode 70 -->
Love Sailor Moon? Sign up for my free Sailor Moon newsletter to stay up-to-date with all of the latest Sailor Moon anime, manga, and merchandise news.