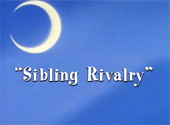 Episode 65
Sailor Moon R
Sibling Rivalry
Jap. 72 "Rubeus's Emergency! The Loss of the Four Sisters"

Wiseman isn't happy with Rubeus and tells him that if he doesn't act soon it will be too late for him. He then commands Rubeus to get Catsy and Birdy back on his side and get the Silver Crystal within 24 hours.
Rubeus then talks to Prisma and Avery and gives them their mission, to get Catsy and Birdy back by using this new strobe. He gives it to Prisma and entrusts her with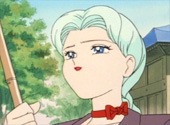 leading the mission. Avery tries to get the strobe as she wants to lead but Prisma holds onto it tight.
In Tokyo, all the girls as well as Catsy, Birdy and Rini are hanging out at Raye's temple. Birdy is happy to be "good" and tells Amy how beautiful the temple is. Suddenly a bright light appears in the sky. Everyone yells to protect Rini but giant light tentacles spout forth from the light and take Catsy and Birdy!
Serena places Rini inside the temple and tells her to stay there. As she runs outside to meet the other girls, she doesn't realise that Rini hasn't stayed where she was supposed to and has followed her. The girls then transform in plain site of Rini who now knows that they're the Sailor Scouts!
Sailor Mercury tracks the UFO to Rainbow Bridge so all the Sailor Scouts run to it and find Catsy and Birdy trapped in a force shield. Avery and Prisma, still holding the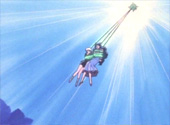 strobe, attack them. The strobe is incredibly powerful and manages to deflect all of the Sailor Scouts attacks. Prisma then begins to go a little power crazy with it.
Catsy and Birdy try to talk Avery into joining their side but Avery refuses to as she thinks they're trying to trick her. Prisma, now completely crazed, turns and zaps Avery with the strobe. Catsy and Birdy fall to the ground, having their shield broken in the blast and are caught by Sailor Jupiter and Mars. Avery, still with powers manages to hover.
The Sailor Scouts then plan to knock the trobe out of Prisma's hands and manage to do so with several attacks. Rubeus then appears and tells Avery and Prisma that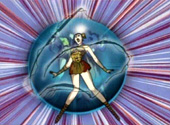 they've failed and that they're out of the family but he will leave them with the strobes hidden power. Rubeus then teleports away as the strobe activates and begins to create a black hole that sucks everything into it.
Everyone grabs onto the sides of the bridge as they discuss different ways to stop the whole. Prisma then tells them that she still has some strobe power in her and if she goes into the vortex she may be able to deactivate it. She then dives into the hole, but Catsy, Birdy and Avery grab her and pull her out. Prisma is surprised at their love for her.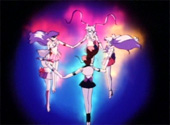 Artemis then theorises that the Scouts will have to go into the vortex to destroy the strobe. Sailor Moon, Mercury, Mars, Jupiter, Venus, Luna and Artemis then enter the vortex and then hold hands. They then each yell out their planets' power as they perform a Sailor Planet Power attack which destroys the strobe and closes the vortex while at the same time teleporting themselves out of the hole.
Catsy then asks Sailor Moon to heal Avery and Prisma. Sailor Moon holds up her locket and performs Moon Crystal Healing Activation.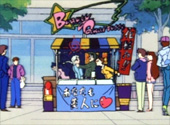 The next day, the girls look on from afar at the Catsy, Birdy, Avery and Prisma's new make-up business. They seem to be doing alright but Catsy quickly begins fighting with Birdy for using all of their make-up on herself.
Raye tells Lita, Mina, Amy, Luna and Artemis that they shouldn't worry as they're not being any less mature than Serena. Serena and Raye then begin to fight as the camera pulls back.

Interesting Facts

This was the first time the Sailor Scouts had destroyed something with Sailor Planet Power.







Shopping Info
<-- Episode 64 --
-- Sailor Moon R Main--
-- Episode 66 -->
Love Sailor Moon? Sign up for my free Sailor Moon newsletter to stay up-to-date with all of the latest Sailor Moon anime, manga, and merchandise news.