Why do you love Sailor Moon?
I think one of the reasons that I love Sailor Moon so much is probably the same reason why so many people love Star Wars: There's just so much of it in so many different medias that it becomes hard not to get into it!
As an native English speaking fan I naturally was first exposed to the English version of the first two seasons of the anime but at the time they aired the remaining three seasons were only available in Japanese and were very hard to come buy. This unavailability of these seasons only intensified my love for the show and made me want to see them more.
To fuel my fandom I read the manga and really loved that and then when the three movies and third and fourth seasons of the anime were released it was a really great time to be a Sailor Moon fan and even after being such a huge fan for several years I still hadn't seen all the episodes of the anime and hadn't seen any of the basically legendary (i.e. no-one had ever seen them, only heard of them) Sailor Moon muscials.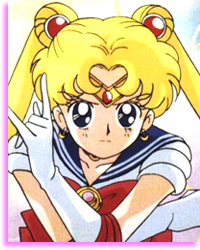 Sailor Moon just wasn't about Sailor Moon and the others fighting the Negaverse in a morning cartoon, by 2002 it had expanded to a huge multimedia franchise, much like the Star Wars films with it's comics, Expanded Universe novels and more the whole Sailor Mon experience was constantly rewarding for fans with more and more ways to experience the world created in numerous ways.
When the live action series began airing in 2003 it threw even more Sailor Moon goodness at myself and other fans who still hadn't seen all of the anime (don't think I'd seen Sailor Stars or several manga short stories yet at this stage and definitely none of the musicals) yet.
It was almost overwhelming... but in a good way.
In 2004 I was lucky enough to move to Japan and watch the live action show live on tv and even got to see the final two musicals performed live in the Ikebukuro Sunshine in Tokyo which got me hooked on the musicals.
Even as I write this I still haven't seen all of the musicals and while I've seen all of the anime now by the time one watches the musicals, anime and live action and reads the manga, it's always time to rewatch the musicals, anime and live action and rip out those old Sailor Moon mangas again.
Even with all these layers in the different versions, the basic premise of the series is just as multifaceted. Not only does Sailor Moon deal with everyday Japanese schoolgirls who are given super powers and must deal with secret identities and fighting evil, we've also got their mysterious previous past lives and their future selfs to deal with as well as the mystery of what happens during these three different time periods on different planets in our solar system and even elsewhere in the galaxy!
Sailor Moon is dense. It's an experience. This is why I love Sailor Moon.
Oh, and the attack sequences are cool. ;)

Thanks to Chase for asking this question via email.
Love Sailor Moon? Sign up for my free Sailor Moon newsletter to stay up-to-date with all of the latest Sailor Moon anime, manga, and merchandise news.