travel guide
Tokyo Tower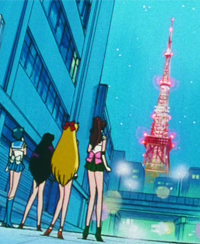 Station: Roppongi for a more interesting walk. Much closer stations are; Akabanebashi, Onarimon, Kamiyacho and Daimon (inspiration for the Monsters of the Day in Sailor Moon S!)
Directions: View on GoogleMaps.
Featured In: Sailor Moon S: Birthday Blues Part 2 and in establishing shots and in the background of almost every episode of the Sailor Moon anime.

Out of all the real life locations used in the series Sailor Moon, Tokyo Tower is easily the most famous and beloved by fans.
While in real life it may not be surround by constant lens flares and pink bubbles it is still easily recognisable and is a must see for even the most casual anime fan.
Tokyo Tower can be reached from several train stations and their convenience really depends on where you are coming from on that particular day.
Personally I recommend walking from Roppongi Station as this will give you the opportunity to visit the anime Sailor Mars Shrine and do some fantastic shopping in the Roppongi Hills and Tokyo Midtown complexes before or after your visit to the Tower.

From Roppongi, Tokyo Tower is just a 15 minute walk downhill. There is no set route as Tokyo Tower is kind of hard to miss.
To the older generation and nationalists Tokyo Tower represents Japan's strength as a nation mostly due to the fact that one third of it is made up entirely of US tanks damaged in the Korean War.
This fact is entirely lost on today's Japanese people though who simply think of it as a romantic place to take a date. In fact a popular belief is that if you are looking at the tower at the exact time it changes lighting colour, your wish will come true or your relationship that you're in will last forever.
(click here to watch on youtube)
Tokyo Tower developed this "romantic" reputation due to the fact that it bares a remarkable resemblance to France's Eiffel Tower, a fact not lost on many Western tourists who think of it as a cheap, unimaginative, and even ugly imitation of an existing icon.
Due to it's prominence in popular anime series such as Card Captor Sakura, X1999, Magic Knight Rayearth and of course Sailor Moon, however Tokyo Tower has very quickly become a popular tourist destination for anime and manga fans of all ages and nationality.
The building at the base of the tower is split into several floors. The ground floor features heaps of souvenir stores and restaurants though I HIGHLY recommend eating somewhere else in Roppongi before or after you visit the tower as the outlets in the tower are very low in quality and several cafes allow smoking.
The upper floors feature video game arcades which is a great way to experience another aspect of Japanese culture.
There is also an outdoors section with rides for young children though unfortunately it was closed when I visited.

Strangely, to get to the observation deck you have to buy a separate ticket from outside the building near the bus stop on the ground floor.
This confuses almost everyone so don't feel embarrassed if you can't find it easily.
The view from Tokyo Tower really is amazing and gives you a chance to see a lot of famous locations from a unique perspective.
The tower opened to the public on the 23rd of December 1958 and until 2010 was the tallest building in Japan.
You can even see Mt. Fuji on clear days. If Mt. Fuji is what you want to see, make sure you come during winter as the sky is much clearer than in summer which gives you almost zero visibility.
There is a cafe on the observation deck though unfortunately, like the eateries downstairs, I suggest avoiding this and eating elsewhere.
The cafe is a great place though to sit and wait for the sunset which looks spectacular and to watch Tokyo transform from day to night.
<-- sailor moon travel guide --
<-- information --

Love Sailor Moon? Sign up for my free Sailor Moon newsletter to stay up-to-date with all of the latest Sailor Moon anime, manga, and merchandise news.