Emilie-Claire Barlow

Thank you so much for taking the time out for this interview! I know you must be busy.
No problem!
It's been about a decade now since your work on the English version of Sailor Moon. How do you look back on your experience on the show now?
It seems like a very long time ago - and I guess it was! It was one of my first experiences working on a series. It was a good way to jump right into it. I definitely look at it as a learning experience. I learned a lot about working with a director, and working with dubbing. We used a certain dubbing technique called Rhythmoband which took a
few sessions to learn!
Does is surprise you that fans are still watching the show after all these years and that it is still attracting new viewers even though it's no longer on tv?
I think it's great that it still has such a following! The show has always had a very strong fan base. I love that the fans care about the show enough to keep it alive even though it isn't on tv any more.
You originally came onto the show as a replacement for Katie Griffin's Sailor Mars for several episodes. Did you see the show before you got this role? How did you approach it considering that another actress had already established her own take on the character?
Yes, I was temporarily replacing Katie Griffin while she was away shooting a film. I had not seen the show before, but I auditioned for the role and got the part. Katie and I have similar sounding voices so it wasn't a stretch for me vocally. First I watched several episodes, to get an idea of the voice and character, then we started recording. My approach was not to change the character at all. I was looking to sound as close to Katie as possible considering that it was just a temporary replacement. The idea was to have it be as seamless as possible so as not to disrupt the show.
I loved your work as Mina / Sailor Venus. Was it a similar experience taking over from Stephanie Morgenstern as Sailor Venus in Sailor Moon S and SuperS?
I was originally looking at it in a similar way, but at that point in the show, the director was making some changes in the voices. When I stepped in to the Mina role, I was thinking it would be a voice match situation again, but I was directed to sound different. I was worried that the Sailor Venus / Mina fans wouldn't like a change in the voice!
I've heard that the rate of production on S and SuperS was really intense with several episodes being dubbed a week. How was it for you?
Honestly, I don't really remember how many episodes a week we dubbed, but the show could be very vocally tiring with all the yelling "Mars Star Powwweeerrr!" etc..
Would you ever consider returning to the role if the fifth and final season, Sailor Stars was ever adapted?
Of course! If there was a role that was suitable, I would love to return to the show.
What advice would you give to fans hoping to break into the voice acting industry?
I would suggest that an aspiring voice actor should put together a demo reel to send out to voice agents. Keep it short and show lots of variety. Also keep in mind that in many cases, voice actors go to plenty of auditions before they book anything. It's not only about being able to "do voices", it's also about being flexible, learning to follow direction, and feeling confident enough to put yourself out there!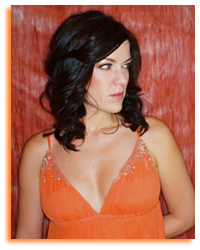 As well as voice acting you've also created a very successful career for yourself as a singer with two of your albums being nominated for Best Vocal Jazz Album and Vocal Jazz Album of the Year at the Junos (Canada's Grammy)! Have you always been interested in singing and how does it feel to be as successful as you have?
I've been a singer all my life. Both of my parents are musicians and so music was always a big part of my world. I've been a professional jazz singer for about 10 years. I absolutely love the whole process, from choosing the repertoire, writing the arrangements, recording the album, and of course, touring! Performing in front of a live audience is an incredible experience. I feel very fortunate to have been able to see the world and travel while doing what I love.
Your latest album, Haven't We Met?
was released last year and you sound absolutely fabulous. Why do you think fans should pick it up and what should they expect?
Thank you! Well, it is an album of standards, most of the songs from the 30's and 40's. The album is fresh, flirtatious, fun, hopeful, and it swings!
What are you working on now? Any new acting roles or albums in the pipeline?
Right now I am voicing regular characters on several animated series. I voice Courtney on Total Drama Island and Total Drama Action. I voice Alice on Bakugan Battle Brawlers. I'm also voicing Mrs. Ridgemount on Stoked. There are two new series' in pre-production, and have just started working on a new album, which will be released this October.
Before we finish I have to ask, what's your favourite Sailor Moon character?
I always liked the cats - Artemis & Luna!
Thanks so much again!
Thank you!


Fans can find out more about Emilie-Claire Barlow on her official site and her Twitter account. All of her albums are available on Amazon
.

<-- return to the interviews main page --

Love Sailor Moon? Sign up for my free Sailor Moon newsletter to stay up-to-date with all of the latest Sailor Moon anime, manga, and merchandise news.