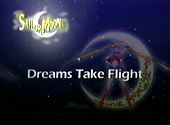 Episode 128
SM SuperS
Dreams Take Flight
Jap.128 "Meeting of Fate! The Night Where a Pegasus Flies"
A beautiful white pegasus flies through space whinnying. It speaks and says that it has come a long way to see "you".
Rini is dreaming. She walks through the streets of Azabu Juban. The moon is full and big and floats right behind Tokyo Tower. She suddenly finds herself in a mysterious forest and sees the pegasus. She walks towards it and reaches out to touch it.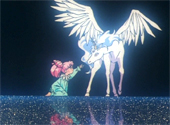 As she reaches towards it, her clothes transform into her princess dress.
As she looks at the pegasus one more time she sees that he has disappeared. She hears his voice tell her not to tell anyone about seeing him.
Rini then wakes up and sees Serena glaring at her. She tells her to hurry up because they have to meet the girls.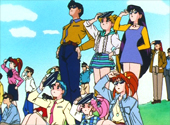 They all meet on a grassy hillside in town. Everyone is waiting for the solar eclipse. Andrew from the arcade and his sister, Lizzie are also with them.
Serena tells Rini about scary things that can happen during an eclipse but Rini isn't scared at all. Raye scolds Serena but then realises that Serena actually believes in what she was telling Rini.
Mina is excited and tells Rini that this eclipse only happens every few hundred years!
Rini looks lost in thought, thinking about her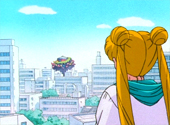 dream. Lizzie asks her if she's thinking about a boy. Andrew turns around and teases his sister about coming home late and tells her he suspects she's got a boyfriend too. Lizzie blushes and all the girls look at her.
The eclipse begins and everyone holds up their visors.
Serena thinks about how dark it is with all the city lights off.
Unknown to anyone, a giant circus tent floats out of the sky and lands in the centre of the city.
When the eclipse is over, Serena notices it but is told to stop looking at it and hurry up.
Inside the tent, hundreds of strange creatures celebrate landing without being detected.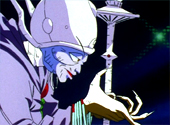 Their leader, a strange old being called Zirconia appears and commands them to be quiet. He then summons three beings, Tigerseye, Fisheye and Hawkseye and instructs them to search for their target who is hiding in the beautiful dreams of the people of this planet. He tells them that while everyone has dreams, only a select few have beautiful dreams.
The three get right to work and begin looking at photos of people to target. Tigerseye seems to find a photo of a girl that he like. Hawkseye isn't surprised at all as he think that looks like his type. Fisheye doesn't understand Tigerseye's type. Tigerseye comments that she doesn't understand his type because her type's different.
Tigerseye holds up the photo and it's of Lizzie.
Meanwhile in the Fruits Parlour Crown where Lizzie works, Serena and Rini have come to visit. Serena asks Lizzie for info on her boyfriend but she becomes nervous talking about it in front of Rini. Rini then sees her locket around her neck and grabs it to have a look at her photo. Chaos ensues.
Later that night on her way home on the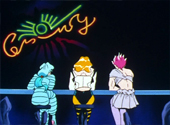 bus, she's followed by Tigerseye. He uses his magic to take her wallet and when she gets off the bus he gives it to her and flirts with her to try and get her alone.
With a snap of his fingers, he has Lizzie strapped to a board.
Serena who's outside with Rini looking for the forest she saw in her dream (though Rini hasn't told her this) sees Lizzie in trouble and come to her rescue as Sailor Moon and Sailor Mini Moon.
Tigerseye summons a super strange monster, Karukuriko to deal with them though. Sailor Mini Moon,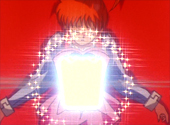 who lost her Pink Heart Stick in the previous episode is powerless to stop it as it grabs Sailor Moon and drags her up into the sky and tries to stab her with a sword.
Tuxedo Mask arrives just in time and distracts the monster.
Tigerseye begins to fight with Tuxedo Mask hand-to-hand and then uses his whip to magically capture his shadow, freezing him!
Tigerseye then walks over to Lizzie and peaks into her Dream Mirror which has materialised in front of her chest. He says it's beautiful but his target isn't in it. He then tells Karukuriko that he can't let her live in case their target hides in her dream in the future and that she should kill them all.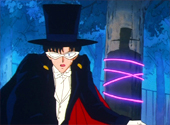 Sailor Mini Moon, desperately whispers for someone to help them. Suddenly a burst of bright golden light blasts through the sky, freeing them all. As the light fades, the pegasus from Rini's dream stands in front of them all.
Tigerseye yells out that he's "The Good One, Pegasus", the one they've been looking for.
Pegasus' horn begins to glow as Pegasus powers Sailor Mini Moon and Sailor Moon up to Super Sailor Mini Moon and Super Sailor Moon. Tuxedo Mask exclaims that they've both been powered up to Super Sailors!
Magically a new sceptre materialises in front of Super Sailor Moon. She grabs it and performs the attack "Moon Super Moon Target" and destroys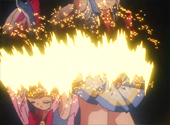 Karukuriko.
Tigerseye backflips through a hole in space and disappears.
Super Sailor Moon and Super Sailor Mini Moon look for Pegasus but can't find him anywhere. They then realise that they've reverted back to their regular forms without even realising it.
Sailor Mini Moon remembers her dream where Pegasus asked her not to tell anyone they've met.
Sailor Moon asks her if she knows anything about Pegasus. Sailor Mini Moon says she doesn't.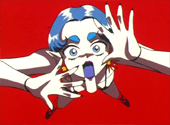 Monster of the Day
Karukuriko is the first of the super bizzare monsters from the Dead Moon Circus. She was super strong and could separate her body into several parts, poke a sword blade out of her mouth and fly!
She was eventually destroyed by the preliminary version of Moon Gorgeous Meditation.
Interesting Facts

The Dead Moon Circus, Zirconia, Tigerseye, Fisheye, Hawkseye and Pegasus all made their first appearance in this episode. This was also the first time we saw Super Sailor Mini Moon's form as well.

Fisheye has always been a controversial character. In the original Japanese version he is a man, albiet very effeminate portrayed by Akira Ishida who went on to voice Kaworu in Neon Genesis Evangelion, Xelloss in Slayers, Gaara in Naruto ammong other famous roles. In the original, Fisheye was gay. In the English version he was changed to a woman most likely due to censorship or to hide a potentially offensive gay stereotype (i.e. overly feminine to the point that he looks and dresses like a woman on several occasions.) You be the judge.

This episode gave us our first preview of Super Sailor Moon's new attack, Moon Gorgeous Meditation. Important to note that in the original Japanese, Super Sailor Moon simply grunted when doing the attack and in the English version she said, "Moon Super Moon Target". In both cases she didn't say "Moon Gorgeous Meditation". She will however in two episode's time and every time afterwards.

Fruit Parlour Crown where Lizzie works seems to be owned by the same company that owns Crown Arcade. Could it be a family business?
Shopping Info

Sailor Moon SuperS Vol. 1
<-- Episode 127 -
- Sailor Moon SuperS Main -
- Episode 129 -->
Are you a Sailor Moon fan? Sign up for my free Sailor Moon newsletter to stay up-to-date with all of the latest Sailor Moon anime, manga, and merchandise news.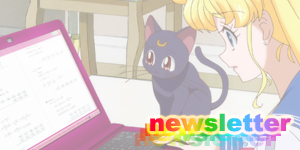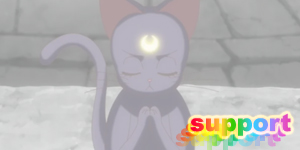 Enjoying the content on Moonkitty.NET? Please consider sending me a quick donation via Ko-Fi. Every little bit is appreciated and helps support me as I dedicate more time and resources into content creation for the site and its various associated projects.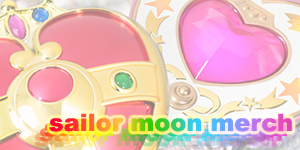 sailor moon eternal edition manga
sailor moon naoko takeuchi collection manga
sailor moon crystal anime blu-rays and dvds
sailor moon funko pop! figures
sailor moon t-shirts and tops
sailor moon proplica item replicas
sailor moon tamashii nation figures
90s sailor moon anime dvds
-- more -->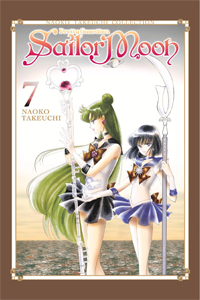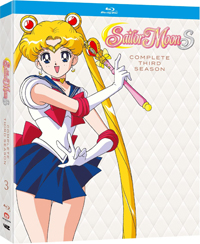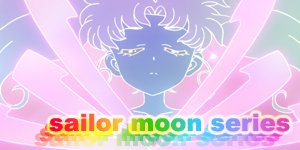 sailor moon crystal anime episode guide
sailor moon 90s anime episode guide
live action sailor moon tv series
sailor moon musicals
sailor moon manga
-- more -->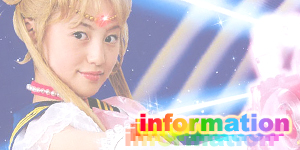 sailor moon characters
sailor moon locations
sailor moon voice actor interviews
sailor moon attacks
moonie mailbag
-- more -->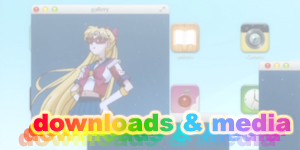 sailor moon podcasts
sailor moon desktop wallpapers
sailor moon mobile wallpapers
sailor moon avatars
sailor moon christmas content
-- more -->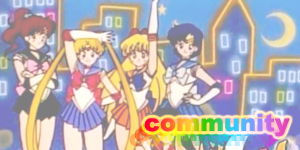 Stay up to date with all of the latest Sailor Moon news and site updates by connecting with me on some (or all) of the below social networks and platforms.