Episode 177
Sailor Stars
Dreams and Romance on a Star! Taiki's Transformation

At school the girls are shocked to see that Amy and Taiki are both tied as number one in the latest test results.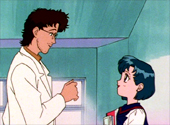 Serena and Mina race over to Taiki and ask him to help them study (more to be with him than learn anything). Taiki offers to give them his notebook which Serena and Mina begin to fight over. Eventually they rip it.
Amy meanwhile ponders why the girls haven't asked her for study advice lately.
After class Amy talks to the science professor about a comet that's approaching Earth tomorrow. The teacher calls it "Francois" as if it's a person. Amy comments on how he talks about it as if it's a lover. Taiki
shows up and tells them that he knows the commet will be viewable from around 9:15pm. The teacher invites them both to his house to watch it.
At Ginga TV Iron Mouse is flipping through magazines and decides to target the teacher.
At Crown Fruits Parlor Amy tells the girls about watching the commet with the teacher and that she's been invited to watch him on a tv show tonight with Taiki who's hosting the show. She also mentions that he refers to the comet like a girlfriend and thinks his real girlfriend must be amazing. Serena imagines him as a loser and laughs. Mina schemes and says they can tell security they're his students to get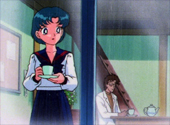 in and see Taiki.
That night all the girls watch the live recording from back stage. A boy from the audience asks if it's true that people become stars when they die. The teacher tells him that it indeed may be true. Taiki gets angry and tells him that the power of living things powers the stars.
Backstage, Lita ponders on this.
After the show Taiki comments to Amy about it now raining and that the forecast for tomorrow is 100% chance of rain. Amy tells him that it may clear up as the power of dreams and romance will win. Taiki dryly asks Amy if her dreams can get rid of the rain. He tells her he'll drop by if it clears up.
The next day it rains all day. Amy still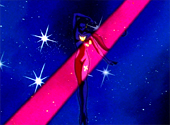 goes to the teacher's house after school though despite this. While they're talking, Iron Mouse arrives and rings the gate's intercom. The teacher goes out to see who it is. Iron Mouse is shocked that he doesn't look like the photo she has which was taken 15 years ago. She reveals her true self and removes his Star Seed which quickly turns black. She teleports away as he transforms into the Phage, Sailor Teacher!
Amy, who had come out to see what was happening is attacked. Luckily Taiki has arrived despite the rain, having been thinking about Amy's words all day, and sees her being attacked. He transforms into Sailor Star Maker and attacks with Star Gentle Uterus.
Amy leaps at Sailor Teacher and knocks him out of the way. Amy yells at Star Maker that he's a teacher she cares about. Star Maker is shocked as she doesn't want to hurt him either.
Nearby, Serena and Luna are walking to the teacher's house in an attempt to cheer up Amy. Serena hears the commotion and transforms into Eternal Sailor Moon. As she arrives Sailor Star Maker attacks once more with Star Gentle Uterus which knocks the Phage out. She turns to Amy though and says that she only used half her power. Amy smiles.
Eternal Sailor Moon then uses Starlight Honeymoon Therapy Kiss which reverts Sailor Teacher back to his human form.
Later on Amy and all the girls are watching the comet through the telescope. They sky had cleared up! Taiki then joins them. Mina and Serena begin fighting over who gets to use the telescope with Taiki but while they're fighting, Lita jumps in front.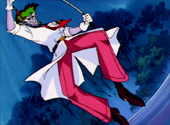 Monster of the Day

Sailor Teacher was your average Phage though pretty unusual because he was a guy! He had a few physical attacks but didn't prove that much of a challenge.
He was healed by Eternal Sailor Moon's Starlight Honeymoon Therapy Kiss.






Interesting Facts

The writing behind the teacher in Serena's little dream sequence read "DASAI" in romaji (Japanese written with English letters). Dasai basically means "uncool".

Sailor Star Maker's transformation sequence was used for the first time in this episode. Also, Eternal Sailor Moon's transformation was a little difference, with several extra "blings" of light added.
Shopping Info
<-- Episode 176 -
- Sailor Stars Main -
- Episode 178 -->
Love Sailor Moon? Sign up for my free Sailor Moon newsletter to stay up-to-date with all of the latest Sailor Moon anime, manga, and merchandise news.