Episode 113
Sailor Moon S
Rini's Risky Friendship
Jap.113 "A House Full of Evil Presence! The Secret of the Beautiful Girl, Hotaru"
Rini and Serena are sharing a bath together. Rini mentions that she has a new friend and Serena automatically assumes it's a boy and asks to be introduced to her.
Elsewhere Darien meets up with Trista, Amara and Michelle. They all transform.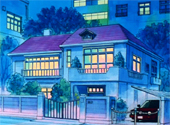 Tuxedo Mask asks them why they can't all work together. Sailor Neptune says that in the past it was their duty to protect the Solar System from outside forces but because they hadn't been reborn yet, this new evil invaded Earth. It's their fault for the Death Busters being here.
Sailor Uranus adds that they're also in a different league than Sailor Moon and the Inners and that they would only get in their way.
The next day Amy, Lita and Mina are walking to Raye's temple and they realise that Rini had asked them all for advice on meeting new friends. Mina had given her fashion advice, Amy advice on bringing a book to show her interests and Lita had given her some cookies to give to her friend. Lita then jokes that she wishes she had known before hand so she wouldn't have made the cookies in the shape of lips.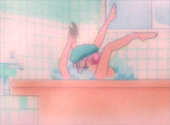 Mina and Amy freak out hearing this and think that Lita's weird.
Meanwhile in another part of Tokyo, Serena is walking Rini to her friend's house still convinced that this new friend is Rini's new secret love.
When they get to the house, Serena is horrified to see Kaori Night answer the door! Rini, who had never met Kaori Night is just happy to be here and says a happy hello to Doctor Tomoe who joins Kaori at the door.
Serena thinks to herself that she's just being silly and that there's no way a bad guy would be in a house like this.
Once invited inside, Tomoe leaves them and walks down to the Death Busters' base in the basement and puts on his white lab coat. He then calls Mimet who convinces Tomoe that she has found a Pure Heart in the hunky author that she had been drooling over.
Doctor Tomoe prepares the next Daimon Heart Snatcher for her.
Back upstairs, Serena and Rini are waiting for Hotaru in the lounge room. Hotaru enters and is very happy to see Rini. Serena is shocked that Hotaru is a girl and Rini tells Serena that she never said that he was. Rini and Serena begin to fight. Hotaru finds this very amusing and begins to laugh.
Kaori then enters with a tray of tea. Hotaru
takes it out of her hands and tells her to mind her own business and takes Serena and Rini to her bedroom.
On the way to her room Serena asks her where her mother is. Hotaru explains that her mother died years ago but that it's okay.
Once they enter Hotaru's room, Rini announces how amazing it is with all the lights. Suddenly Hotaru feels weak and collapses on the ground. As Serena kneels to help her, her Cosmic Moon Compact falls out of her pocket. Hotaru picks it up and is suddenly possessed by an evil presence who seems to be drawing energy from it.
Rini asks her if she's okay and Hotaru snaps back to normal.
Rini then gives Hotaru a present, a book! As she takes the book out of the bag a pamphlet falls out announcing an author book signing at the book store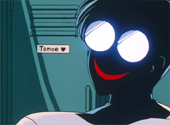 today. They all decide to go and check it out and buy his book!
At the book signing Mimet gets the author's autograph on her book. Afterwards she confronts him in the car park and releases her Heart Snatcher on him.
The Heart Snatcher quickly sucks his Pure Heart Crystal out of his body. Serena and Rini who are walking with Hotaru towards the store see this. Rini takes Hotaru somewhere else and says they missed the book signing (which they did anyway) while Serena transforms into Sailor Moon.
The Heart Snatcher is too strong for Sailor Moon though and pins her down on the ground with a paper attack. Luckily Sailor Pluto arrives and attacks the Heart Snatcher with Pluto Deadly Scream. Sailor Uranus and Neptune also arrive and free Sailor Moon from the paper. They both then attack with Uranus World Shaking and Neptune Deep Submerge though the later is blocked with an umbrella shield.
Sailor Moon asks Uranus why they all can't work together but Uranus simply tells her that she'll get in the way.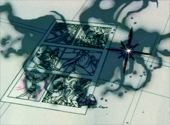 Sailors Mercury, Venus, Jupiter and Mars and Tuxedo Mask then arrive and knock the Heart Snatcher over. Sailor Moon then powers up into Super Sailor Moon and defeats the Heart Snatcher with Rainbow Moon Heart Ache. Mimet runs away.
Tuxedo Mask tells Uranus that while their powers may individually be weaker than theirs, combined they could prove to be very useful.
Later that night, Serena and Rini are once more sharing a bath and reflect on the day. Rini tells Serena that she thinks she and Hotaru will become best friends.
Monster of the Day

The Daimon Heart Snatcher today was a rather cool one based on an actual comic strip set around it's own defeat (I said cool, not logical.)

Along with it's paper attacks it was rather strong and needed the presence of all of the Sailors to really intimidate it.

It was defeated by Rainbow Moon Heart Ache.






Interesting Facts

While Kaori Night seems alive and well in this episode, a closer look at her eyes reveal that she's not entirely the same as before and suggests that she did actually die earlier in the season and that Doctor Tomoe brought her back from the dead somehow.

Sailor Pluto's Pluto Deadly Scream was seen in it's entirety for the fist time in this episode.

Darien transforms into Tuxedo Mask on screen for the 4th time (I think) in the anime when he meets the Outers.
Shopping Info

Sailor Moon S Vol. 4
<-- Episode 112 --
-- Sailor Moon S Main --
-- Episode 114 -->
Love Sailor Moon? Sign up for my free Sailor Moon newsletter to stay up-to-date with all of the latest Sailor Moon anime, manga, and merchandise news.