Episode 95
Sailor Moon S
Blinded By Love's Light
Jap.95 "Leave it to the Moon for Love Aid"
At school, Serena is pulled aside by Melvin who's concerned about his relationship with Molly. Serena asks him what's wrong and Melvin tells her that Molly seems to be hiding something from him.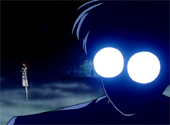 Later that day, Serena talks to Molly and asks her what's up with her and Melvin. Molly tells her that she thinks Melvin is hiding something from her. Serena realises that the whole problem is just miscommunication and tries to think of a way to fix the problem.
Serena then goes and asks Raye for advice and Raye shows her a poster for a love contest in the park. Serena then drags Molly and Melvin there but is shocked to see that the application period has closed. Molly and Melvin then reveal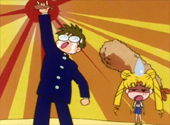 that they had both already bough tickets for each other and that is what they were hiding.
That night Melvin, excited, decides to get lots of sleep for the competition the next day but is so excited he doesn't get any sleep at all.
Also that night, Doctor Tomoe and Kaori Night release a Daimon pod that absorbs into the stage to be used for the competition.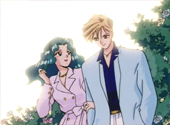 The next day the sleep deprived Melvin meets up with Molly, Serena and the girls. As Melvin and Molly walk onto the stage to join the other contestants Amy sees Amara and Michelle. The girls assume that they're cousins and must be doing it as a joke.
As the competition starts, Amara and Michelle begin to take the lead by winning every game! Eventually though they see how much love Melvin and Molly have for each other and decide to step down to give them a chance at the prize.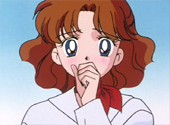 After giving a heartfelt speech to Molly, Melvin and Molly win! As Melvin touches the giant heart on the stage it activate the Daimon pod which transforms into the Heart Snatcher, Die Heart! Die Heart takes Melvin's Heart Crystal and throws Molly away.
Serena and the others transform and are about to attack when Die Heart creates fake hunks that distracts them all. As the Sailor Scouts begin to dance with the fake hunks though they transform into monsters and capture them. Sailor Uranus and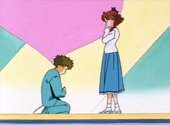 Neptune appear just in time and Uranus frees them with a Uranus World Shaking attack.
Sailor Moon then defeats the Heart Snatcher with Moon Spiral Heart Attack and returns the Heart Crystal to Melvin.
Later on as they all enjoy the party in the park, Melvin tells Molly that he's so happy and in love that he'll make Molly even more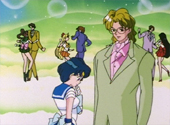 lunches than before. Molly tells him that she's a bit sick of shrimp but seeing Melvin's reaction tells him that she's just kidding and begins to laugh.
Monster of the Day

Die Heart had the unusual ability to create monsters out of thin air that could diguise themselves as sexy hunks! These monsters could also transform back into their evil forms and morph their arms into tentacles to capture the Sailor Scouts.

Eventually Die Heart was defeated by Sailor Moon's Moon Spiral Heart Attack.






Interesting Facts

This was the first English episode where it was confirmed that Uranus and Neptune were cousins in this version. In the original Japanese version they were actually a lesbian couple (which makes their entrance in the love contest in this episode make more sense) so when the English version of Sailor Moon S first began airing many fans were wondering what would be done with the two popular characters.

Despite rumours to the contrary, Sailor Uranus and Neptune's relationship caused a lot of concern in the initial airing of the Sailor Moon S season in Japan among parents who were worried about how seeing a same sex couple could affect their children.
Shopping Info

Sailor Moon S Vol. 1
<-- Episode 94 --
-- Sailor Moon S Main --
-- Episode 96 -->
Love Sailor Moon? Sign up for my free Sailor Moon newsletter to stay up-to-date with all of the latest Sailor Moon anime, manga, and merchandise news.