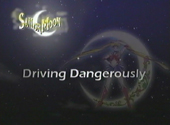 Episode 92
Sailor Moon S
Driving Dangerously
Jap.90 "Premonition of World's End? Mysterious New Warriors"
Serena is on her way to study at Raye's when she spots Mina hanging with Andrew in the video arcade. She storms in and yells at Mina for not studying and distracting her from studying as well by making her come in here to get her.
Andrew tells her that he was bored and was waiting outside for one of them to come by so he would have someone to talk to. Mina then begins to fake-cry about the kind of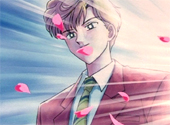 world it would be where noone talked to each other. She then drags Serena over to the car racing games for a match.
Mina beats Serena easily and is very happy with herself. A very handsome guy then walks in and catches their attention. He challenges Mina to a race and is so confident in himself that he gives her a few minutes head start!
Eventually he starts racing and overtakes Mina within seconds! After he beats her he tells them both that with practice they'll get better. Mina shyly asks him if he would like to teach her but before he can answer, a beautiful green haired woman then arrives and jokes that they'd be learning from a pro.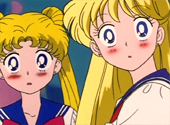 The two then leave together leaving Mina and Serena to wonder if they're a couple.
Mina and Serena decide to follow them to a cafe and then to a car repair garage to find out what the real deal about them is.
As fate would have it, Doctor Tomoe and Kaori Night have sent a Heart Snatcher to grab the engineer's Pure Heart Crystal.
At the Garage, the guy, Amara spots Mina and Serena and asks them why they're following him. They both tell him that they want the scoop on him and Michelle. Amara tells them that he's not interested in them but is sure that they'll find their own prince charming someday. Michelle then joins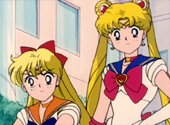 them and is asked by Mina if Amara is her prince charming. Michelle coyly says that no, Amara isn't her prince charming.
Amara then tells them about his career as a race car driver and how he gave it up to follow a different dream. Michelle looks at him, a little sad.
Suddenly they hear screams coming from the garage as Amara's car that was being fixed turns into a Heart Snatcher! She captures the engineer and takes his Heart Crystal and drives away! In all the chaos, Mina and Serena end up being buried under a pile of supplies. They eventually get themselves out and seeing Amara and Michelle nowhere in site, transform into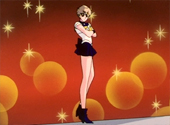 Sailor Venus and Sailor Moon.
Riding on Mina's bicycle, Sailor Venus and Sailor Moon track down the Heart Snatcher and demand that he hand the crystal back! All of a sudden, the two mysterious Sailor Scouts that had been seen recently appear and introduce themselves as Sailor Uranus and Sailor Neptune!
Sailor Moon and Venus are shocked at the reveal of two more Sailor Soldiers and wonder aloud just how many more there are.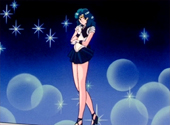 Sailor Uranus then attacks the Heart Snatcher with Uranus World Shaking and Sailor Neptune attacks with Neptune Deep Submerge the comination of which knocks the monster out.
Sailor Moon then finishes the job with Moon Spiral Heart Attack which removes the Daimon egg from the car and returns it to normal.
Sailor Uranus and Neptune then examine the Heart Crystal and find that it isn't one of the ones they're looking for and decide to return it to the engineer.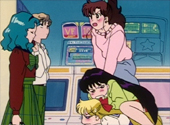 That afternoon as Serena and Mina tell the girls in the arcade about what happened, Michelle and Amara (who now appears to be a girl!) enter. Seeing Mina and Serena's reaction, Lita and Raye jump around the room looking for the hot guy they had heard about. Mina asks Amara if it's true, if he's a woman. Amara simply laughs and apologises if he got their hopes up.
Luna, Artemis and Amy can't believe Mina and Serena could be so clueless. Serena simply pretends that she knew all along.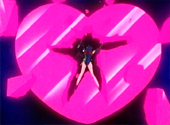 Monster of the Day

This unnamed Heart Snatcher, made from a car obviously came with the ability to transform into a car form and drive very quickly. It could also through projectiles that could transform into restrainers that she used to steal the Heart Crystal from today's target.

Eventually she was weakened by Uranus World Shaking and Neptune Deep Submerge before being reverted back to a car by Moon Spiral Heart Attack.






Interesting Facts

While we had seen the two attacks before this was the first episode where we got to see the animated attack scenes for Uranus World Shaking and Neptune Deep Submerge.






Shopping Info

Sailor Moon S Vol. 1
<-- Episode 91 --
-- Sailor Moon S Main --
-- Episode 93 -->
Love Sailor Moon? Sign up for my free Sailor Moon newsletter to stay up-to-date with all of the latest Sailor Moon anime, manga, and merchandise news.