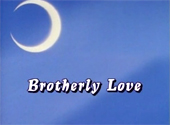 Episode 79
Sailor Moon R
Brotherly Love
Jap.86 "Saphire Falls! Wise Man's Trap"
All the girls are hanging out with Serena at her house. Serena is very upset about the loss of Rini and tells them that she had no idea she would miss her so much.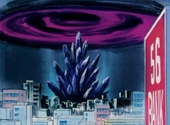 Serena's mother then enters and gives everyone tea but is shocked to see that she made tea for Rini... who she doesn't remember at all. She tells them that it's weird that she made one extra cup and takes it back into the kitchen. Luna suspects that with Rini gone, her mind control over Serena's family seems to have gone.
On Nemesis, the Nega Moon, Wiseman is raving to himself about how soon he will have enough power to free the Doom Phantom and that Diamond and all the others are just pawns in his great scheme. Sapphire overhears this though and teleports to the control room of the Dark Crystal and removes the control chip. Wiseman, who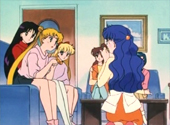 suspected that he was being watched attacks Sapphire with a powerful energy blast but Sapphire manages to time travel back to Tokyo in the present.
Wiseman tells Diamond and Wicked Lady that Sapphire has betrayed them and tells them to destroy him. Diamond is hesitant as he is his brother but Wicked Lady volunteers and leaves immediately.
In the present, Sapphire arrives but is badly injured and collapses in the park. Luckily Catsy, Birdy, Avery and Prisma see him and take him to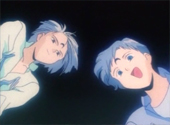 Prisma's apartment where the four women had been living.
Prisma tends to Sapphire while the other three girls give them some privacy. Avery tells Catsy and Birdy that Prisma and Sapphire used to be a couple.
While dreaming, Sapphire remembers how he and Diamond came across a flower a long time ago and Diamond promised to take him to Earth were there were many more.
As he wakes he is surprised to see Prisma who tells him how wonderful Earth is. Sapphire tells her how much she's changed and that he likes her company. Eventually though he stands to leave and tell Diamond that Wiseman is not to be trusted before it's too late. Prisma is sad and sees him off while the others watch from the other room. Birdy says that they should go help him, but Avery reminds her that they don't have their powers anymore and that they'd only get in his way.
Catsy then calls Serena and tells her what's happening.
As Sapphire approaches the growing crystal that's beginning to tower over the surrounding buildings, Wicked Lady appears and is about to kill him when Sailor Moon and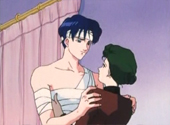 the Sailor Scouts appear and try to stop her. Sailor Venus attacks with Venus Crescent Beam Smash but Wicked Lady blocks the attack. Sailor Mercury then uses Mercury Bubbles Blast to give them all some shelter. Eventually though, Sailor Moon, Sailor Venus and Sailor Mercury are caught by Wicked Lady in a dark barrier and shocked.
Sapphire tells Sailor Jupiter and Sailor Mars who had been protecting him to go help their friends as he wants to talk to Diamond by himself. Sailor Jupiter and Mars try to free the others but they are also caught.
Luckily, Tuxedo Mask arrives and frees them all.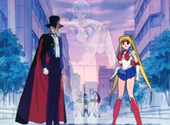 Sapphire begins to tell Diamond the truth about Wiseman, but Wiseman appears and kills him. Wiseman then takes the control chip from his body and then teleports back to the future with Wicked Lady.
Sailor Moon, who had been kneeling with Tuxedo Mask over Sapphire's body is surprised when Diamond walks over and takes Sapphire's body with him as he leaves.
Prisma, who had sensed Sapphire's death, begins to cry and thinks of how happy he was while he was with her.

Interesting Facts

Several characters appeared to have different English voice actors in this episode. Serena's mother being one and the four sisters being the others.







Shopping Info

Sailor Moon Vol. 14
Read My Review
Buy from Amazon.com
/ Amazon.ca
<-- Episode 78 --
-- Sailor Moon R Main --
-- Episode 80 -->
Love Sailor Moon? Sign up for my free Sailor Moon newsletter to stay up-to-date with all of the latest Sailor Moon anime, manga, and merchandise news.