Episode 77
Sailor Moon R
Jealousy's Just Rewards
Jap.84 "Wiseman's Evil Hand! Destroy Chibi Usa"
Tuxedo Mask has returned Sailor Moon to the Crystal Palace. All the Sailor Scouts run to her and hug her.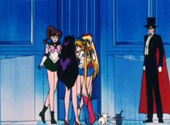 On Nemesis, Prince Diamond is angry at his loss but is determined to have Sailor Moon all to himself. Nearby, Sapphire is frustrated as he thinks Diamond has lost focus of their objective to take over the Earth. He tells Emerald but she is so taken with Diamond that she refuses to accept the fact that he could be wrong.
Back in the Crystal Palace everyone gathers around the body of Neo Queen Serenity. Luna and Artemis ask Sailor Moon to try and revive her with her crystal. Sailor Moon
tries and activates the crystal's powers but it doesn't work. Neo Queen Serenity lies as motionless as ever.
Rini gets upset over this not working and runs out of the palace crying over how it's her fault. Wiseman appear before her and uses his powers to change manipulate Rini's mind. Rini begins to think that everyone hates her for causing all this trouble and eventually takes Wiseman's hand and goes with him to Nemesis.
On Nemesis, Emerald confronts Wiseman but doesn't see Rini who is giggling in the shadows and demands he give her more power so she can defeat the Sailor Scouts. Wiseman tells her that he's getting a vision of a queen more beautiful than Neo Queen Serenity and that it's her! He gives her a black crystal crown which she immediately puts on. Unfortunately it starts to activate and transforms her into a huge dragon!!!
Back in the Crystal Palace the palace's computer's detect the dragon heading towards them and they all head out to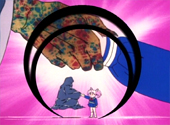 battle it. King Endymion who stays behind tells Luna and Artemis that he can't find Rini anywhere in the palace!
Outside the dragon appears. Sailor Venus attacks it with Venus Love Chain Encircle which damages it but the wound quickly heals. The other Sailor Scouts then try their attacks but nothing seems to stop the dragon for very long.
Sailor Mercury then realises that the dragon's powers seem to be coming from it's crown.
Tuxedo Mask throws a rose at the crown which damages it severely. Sailor Moon then uses Moon Sceptre Elimination which destroys the dragon completely.
Much to the surprise of the everyone, the ghostly form of Emerald appears before them and slowly fades away.
Sailor Moon feels bad for her.
Back on Nemesis, Rini begins to laugh evilly.

Shopping Info

Sailor Moon Vol. 13
Read My Review
Buy from Amazon.com
/ Amazon.ca
<-- Episode 76 --
-- Sailor Moon R Main --
-- Episode 78 -->
Love Sailor Moon? Sign up for my free Sailor Moon newsletter to stay up-to-date with all of the latest Sailor Moon anime, manga, and merchandise news.