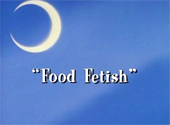 Episode 49
Sailor Moon R
Food Fetish
Jap.55 "Is Seijuurou the Moonlight Knight? Mako-chan Firing Up"

It's a beautiful day and Lita and Amy are hanging out in a park. Lita is pining over the mysterious Moonlight Knight while Amy wonders who his true identity could be.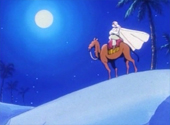 Nearby, Melvin surprises Molly with a furoshiki full of food he made himself. This makes Lita pine even more as as usual she brought way too much food with her for lunch to eat alone.
After they get to school they find all the girls screaming over Alan. Suddenly Amy realises that Alan appeared around the same time the Moonlight Knight did and wonders if they're the one and the same. Lita, who obviously has a thing for Alan tells Amy that she'll keep an eye on him to see if her hunch is true.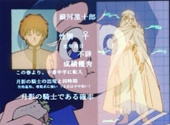 Suddenly Alan gets up and begins to walk quickly out of the room in an attempt to get lose all the girls. They all follow him though forcing him to run around a corner and leap onto the school building to escape them. Lita doesn't see him jump but does notice that he got to the top of the building quickly and runs up to have him to herself.
She sits down next to him and offers to share her lunch with him. He's hesitant at first but then begins to try some. And he likes it! Unfortunately Anne sees this and becomes insanely jealous and approaches them, warning Alan not to eat so much "rubbish". Lita and Anne begin to yell at each other while Alan humorously chokes on some of Lita's cooking.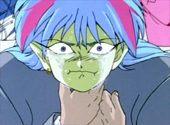 Inside one of the school classrooms, Serena finds Amy who has just finished her lunch and is busy researching something on a computer. Amy tells her that she's calculated that the odds of Alan being the Moonlight Knight are very slim. Serena just wants some food though as she's forgotten her's again!
On their way home Serena and Amy run into Luna who gives Serena her forgotten lunch. Serena immediately begins to chow down but stops when Amy mentions to Luna that Lita is walking home with Alan. Serena becomes furious with Lita for always chasing the hot guys and runs away to find her.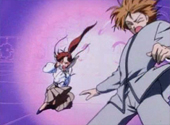 Lita and Alan meanwhile have been confronted by Anne once more who yells at Alan for hanging out with Lita. She then storms off though leaving Lita to ask Alan what exactly is wrong with his sister. The two sit down in a park and Alan asks Lita how food can bring people together. Lita tells him that it's not so much the food, but the fact that it's made from the heart that helps express people's feelings.
Suddenly Anne appears in her alien form and blasts both Alan and Lita. Luckily Serena and Amy show up as Sailor Moon and Sailor Mercury but Anne still puts them on the ropes. Alan then realises how much he loves Anne and transforms into his alien form (out of site of the Sailor Scouts of course) and joins her. The two then summon a new Cardian, Mophead who captures Sailor Moon, Sailor Mercury and Lita who had just transformed into Sailor Jupiter.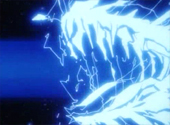 Luckily the Moonlight Knight appears and frees Sailor Jupiter with one of his white roses. Sailor Jupiter attacks Mophead with Jupiter Thunder Crash but it barely works against the Cardian.
After a motivational speech by the Moonlight Knight however she summons the powers of love and nature and attacks with the awesome Jupiter Thunder Dragon!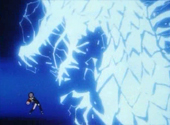 Anne moves to attack Sailor Jupiter but she's stopped by Sailor Venus' Venus Shower and Sailor Mars' Mars Fire Ignite.
Anne and Alan then teleport away leaving Sailor Moon to completely destroy the Cardian with Moon Sceptre Elimination.
Later that night, Anne and Alan decide to try out a selection of Japanese food but are shocked when they don't realise what any of it is or how they're supposed to eat it!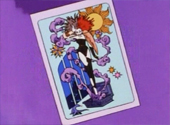 Monster of the Day

As with a lot of the Cardians, Mophead seemed particularly powerful and resistant to most attacks despite not having many attacks herself. In fact the only power she seemed to have was the ability to wrap people up in black tape-like tentacles.

Mophead was weakened by Sailor Jupiter's Jupiter Thunder Dragon attack before being completely destroyed by Sailor Moon's Moon Sceptre Elimination.







Interesting Facts

Sailor Jupiter's second anime attack Jupiter Thunder Dragon appeared in this episode only to be used once after this episode.







Shopping Info
<-- Episode 48 --
-- Sailor Moon R Main--
-- Episode 50 -->
Love Sailor Moon? Sign up for my free Sailor Moon newsletter to stay up-to-date with all of the latest Sailor Moon anime, manga, and merchandise news.