travel guide
Sailor Moon R Movie Archway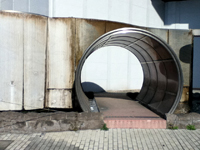 Station: Azabu Juban
Exit: 3
Directions: View on GoogleMaps.
Featured In: Sailor Moon R Movie, Sailor Stars #182 "Invasion From Outer Space! Siren Comes Flying In".

This archway, famous among Sailor Moon fans for being featured in the Sailor Moon R Movie and Episode 182 of Sailor Stars is officially called The First Bridge Park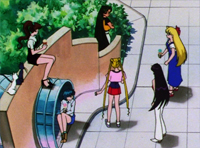 and is located in Sailor Moon's real world hometown of Azabu Juban.
At the time of the anime's original airing in Japan it was a very nice place to relax with trees, fountains and a view of Tokyo Tower. However with time the Tokyo skyline changed, blocking the view of the famous tower and the area lessoned in popularity though still being heavily used in the annual Azabu Juban festival, often for the "international food area".

In 2011 the area was closed down and by mid-year it was demolished in an attempt to renovate the area. View a video I made when I saw this HERE

The archway really was one of the most impressive Sailor Moon real world locations as it looked so much like it's animated counterpart. Here is a travel video I made for Sailor Moon fans travelling to Tokyo and for those who can't make it.


Watch this video directly on YouTube and comment on this video HERE.

<-- sailor moon travel guide --
<-- information --


Love Sailor Moon? Sign up for my free weekly newsletter to stay up-to-date with all of the latest Sailor Moon anime and merchandise news.