Welcome to my Sailor Moon Travel Guide section which covers the real world locations that were used in the Sailor Moon manga, anime, live action and musicals!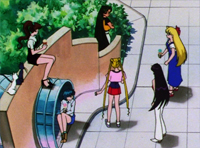 On each location's page you'll find directions on how to get there (as well as Google Maps links!), comparison photos, my thoughts on the location as well as a HD travel video filmed and edited by myself!
The section is quite small at the moment but I'm adding to it all the time on a regular basis so it should grow quite a bit very quickly.
Where do you want to go today Sailor Moon fan?
Tokyo Tower
Love Sailor Moon? Sign up for my free weekly newsletter to stay up-to-date with all of the latest Sailor Moon anime and merchandise news.