Pretty Guardian
Sailor Moon
Super Special DVD-BOX
Buy on YesAsia.com
Buy on CDJapan.co.jp
Buy on Amazon.co.jp

Every episode and special of the live action drama, Pretty Guardian Sailor Moon (PGSM) collected in one awesome box set for the very first time!
Box, Covers and Disks
While fans had been given two DVD boxes before, these were empty boxes that could be used to store all of the individual PGSM DVDs (half of the series in each) and even then didn't have enough space for the Kirari Super Live DVD so in many ways weren't real "box sets" and definitely weren't series / season box sets.

This release, just in time for Sailor Moon's 20th Anniversary in 2012, includes every episode and special (including Super Live) packaged all in one hard sturdy cardboard box that is actually thinner than one of the previously mentioned half season boxes.

Included in the box is four regular sized DVD cases, three of which carry four individual DVDs and the fourth carrying two. The cases are very well designed so that it's easy to remove the disks and while 13 of the 14 disks feature the same content as the individual releases (the regular episode DVDs and the Super Live DVD) the 14th disk is unique to this set and includes all the content from the two separate Special Act and Act Zero DVDs on one disk.


Watch on YouTube

Despite the newly designed 14th disk, this isn't a simple re-boxing of the first 13 as was done with the Sailor Moon Anime 20th Anniversary DVD Box Sets. All of the disks have a new uniform label design with slight colour variations depending on the case they're packaged in.

Overall I'm very happy with the physical presentation of this release.



Menus
The first 13 disks are pretty much exactly the same as the previously released individual DVDs with fast loading menus with some very nicely designed graphics and animated intros. There is the annoying feature that autoplays the main feature when you put in the DVD instead of going to the menu as is normal on Western DVDs but this is quite normal for a Japanese DVD release so it's not something that is particular with just this release.
The 14th disk which features the, up until now separate releases of the Special Act and Act Zero features a new main menu for it's disk which is a combination of the individual menus. It loads quickly and looks great though it is a bit strange there they excluded the chapter menu for both the main Act Zero episode and the Special Act.
[note: For some reason I am unable to make a screencap from this dvd possibly due to it being piracy protected. As soon as I work out how I will upload a pic of the 14th disk menu. For images of the other menus, check out my reviews of the individual disks here.]
Special Features
Thankfully this release includes all of the special features that came with the previous releases. This includes the fun and insightful interviews with the actors and staff as well as location tours to the places used for filming the series, bloopers, tearful farewell speeches as well as some short episodes that focus on Tuxedo Mask and Hina.
All up there's well over 2 hours of behind the scenes bonus material which is pretty amazing when you think about it. The only thing missing I think fans wanted was the rare Pretty Guardian Sailor Moon Dance Lesson special though I'm not surprised it's missing due to the fact that it was a super rare VHS mail away promo made for a magazine in Japan and wasn't produced for sale.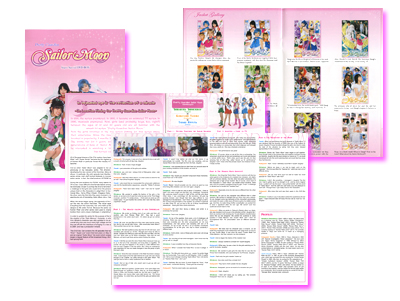 A nice bonus, exclusive to this box is an included booklet that features interviews with the producer and writer of the show. This interview was conducted for this release which is very cool and offers some awesome insight into the creation of the series that I absolutely loved! The wonderful people at Miss Dream translated this booklet for me. You can download it in a zip here or directly from Miss Dream on their site here.
Episodes & Specials
A live action Sailor Moon fan really couldn't ask for more with this release that includes every episode of the main series, the special prequel Act Zero and sequel Special Act, the Hina and Tuxedo Mask mini episodes as well as the awesome Kirari Super Live concert.
This is the ultimate release for any fan of the series or those interested in watching it for the first time. While there are no English subtitles, it honestly didn't detract from my viewing of the series in raw Japanese before I knew anything about the language. The story is fairly easy to understand and if you have any trouble you can use my episode guide to help you out.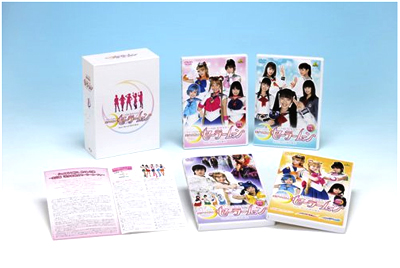 This box set (the only official box set made) is also fantastic value. Here's a price breakdown:
Individual PGSM DVDs 6090 yen each x 15 = 91,350 yen (US$1,131.72)
New Box Set: 31,500 yen (US$390.26)
New Box Set with Amazon.jp discount: 23,098 yen (US$286.15)
That's a $845.57 saving! Even with the US$70 shipping fee (which is offset by the discount anyway) that's still an unbelievable value!
There is very little chance of this series ever being release outside of Japan which makes this box set highly recommended for every Sailor Moon fan everywhere.
A must buy!
Buy on YesAsia.com
Buy on CDJapan.co.jp / Buy on Amazon.co.jp

<-- pgsm dvd reviews main --
<-- shopping guide --
Love Sailor Moon? Sign up for my free weekly newsletter to stay up-to-date with all of the latest Sailor Moon anime and merchandise news.