Click the "Like" button at the bottom of a page to get it featured in this activity box for other Sailor Moon fans to see!

survey hosting


Only vote once. Sailor Moon Says!

On the 6th of July 2012 during a special Sailor Moon event in Tokyo, Japan, it was announced that a new Sailor Moon anime would be released in the Summer of 2013.
Not much was shared about the new anime but this page will update with all of the latest New Sailor Moon Anime news and information as soon as it's released so please check back regularly. I also highly recommend subscribing to my YouTube Channel and following me on Twitter both of which I use to inform Sailor Moon fans of news as it happens.
Sailor Moon Says!

Here's what we know so far...
In April 2013 it was confirmed that the anime has been delayed (no longer coming out in Summer 2013). Was hinted that it would still coming out sometime in 2013 though no release date has been given.
It is confirmed that this anime is not an anime film, but a series.
The new Sailor Moon anime will be released simultaneously worldwide! Online digital distribution is extremely likely.
The band Momoiro Clover Z will be singing the opening theme song.
The anime will be a fresh reboot. i.e. Not a continuation of the original anime set after Sailor Stars.

Here's what we kind of, sort of, maybe know...
Judging by what was said by all involved during and after the special event I am 95% sure that Kotono Mitsuishi and Toru Furuya, the original Japanese voice actors for Sailor Moon and Tuxedo Mask will be reprising their roles in the new anime. If they're not reprising their roles, Toru wondering if he'll be able to keep up with the character of Tuxedo Mask after all these years and Kotono posting on her blog that she can't wait for the new anime is very perplexing.
A new digital distribution service called DAISUKI is starting in April 2013 with the aim to provide a faster, more convenient way for Japanese animation studios to distribute Japanese series in both subbed and dubbed formats. TOEI Animation (who is creating the new Sailor Moon anime) is one of the major companies involved. I would be very surprised if Sailor Moon is not involved with this service.
An eventual DVD / Bluray release of the new Sailor Moon anime is almost a guarantee though I wouldn't expect to hear any details about this (such as companies involved and release dates) until a few months after the initial airing of the anime in Japan.

Here's what we don't know...
We don't actually know the name of this new anime yet.
We also don't know what style the animation will be in.
It has not been announced though if this will be an ongoing anime like the original Sailor Moon anime or if it will have a limited run of twenty or so episodes or if it will stop after a year.
We do not know if any other original voice actors will be returning to the franchise.
It was assumed that the song Momoiro Clover Z performed at the special Sailor Moon 20th anniversary event, Z Maiden's War
(actually released on single a week prior to the event) would be the new opening theme song for the new Sailor Moon anime due to the fact that the band helped make the new anime announcement, was wearing Sailor Moon costumes, told everyone that they would be singing the new opening and then asked the audience if they would like to hear the new song before singing it. If this in fact is not the opening theme song and was completely unrelated, it was not conveyed very clearly at all with even native Japanese speakers expressing uncertainty if this was the opening or not. For now I'm listing the opening as something we "don't know" until it's confirmed by a source separate from the event.
We don't know what the story will be yet or what characters will be appearing. No idea if it will be an original creation much like the live action Sailor Moon series, Pretty Guardian Sailor Moon was or if it will be based on the Sailor Moon manga.
While confirmed to be released simultaneously worldwide in Summer 2013, it has not been confirmed if it will be subbed or dubbed and via which method the new Sailor Moon anime will be distributed or which companies will be involved.
It is very possible that a new Sailor Moon musical could be created to coincide with the new anime. NOT only were the original Sailor Moon musicals very popular in Japan (continuing to run years after the original anime ended) but it is very common practice now for animes in Japan to get musical productions made. This has not been confirmed yet though.
Naturally we don't know airdates or channels yet.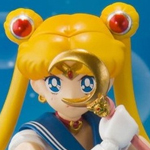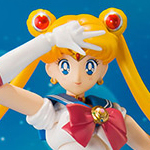 Bandai Tamashii Nations
Sailor Moon S.H. Figuarts Model!
Pre-Order NOW on Amazon.com!

Pre-Order NOW on Amazon.co.jp!

Pre-Order NOW on CDJapan.co.jp!
Pre-Order NOW on JList.com!
Sailor Moon Short Stories #2
Sailor Moon Short Stories #1
Sailor Moon Mug
Luna Plush Toy
Sailor Moon Box Set (Vol. #1-6)
Sailor Moon Luna & Artemis (Set of 2) Pins
Sailor Moon #10
Sailor Moon #11
Tuxedo Mask Mug
Sailor Moon #12
For a complete listing of all the new official Sailor Moon merchandise, check out my Sailor Moon Shopping Guide.

During the special Sailor Moon 20th Anniversary Talk Event in Tokyo, a new Sailor Moon anime due for worldwide release in the Summer of 2013 was announced! For all of the latest information on this exciting new anime, check out my New Sailor Moon Anime Information Page which will be updated constantly with news and images.

Pretty Guardian
Sailor Moon
Super Special DVD-BOX
Every PGSM episode and special!
Coming Soon: In November 2012, special Sailor Moon anime "Memorial DVD Selection" box sets will be released in Japan. Not much is known about these DVDs themselves or how much they will differ from the existing 20th Anniversary DVD Box Sets. Watch this space for news and images of these products.




Sailor Moon Tamashii Nations Shopping Guide
Sailor Moon Costume Shopping Guide
Sailor Moon T-Shirt Shopping Guide
How to Write to Naoko Takeuchi
Sailor Moon Manga Mistakes #9 + #10
2nd Gen English Sailor Moon Manga Shopping Guide
Sailor Moon Accessories Shopping Guide
Sailor Moon Phone Cases & Straps Shopping Guide