Click the "Like" button at the bottom of a page to get it featured in this activity box for other Sailor Moon fans to see!

survey hosting


Only vote once. Sailor Moon Says!

Are the new Japanese Sailor Moon DVDs Remastered?
This is a great question and one honestly don't know the answer to... yet.
When the 20th Anniversary DVD Box Sets were first announced one of the main selling points that was being promoted besides the slipcase and the fact that you could buy 1/2 a season as a set was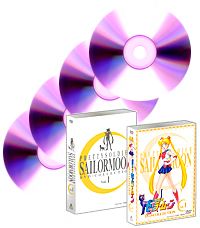 that these DVDs would have remastered audio and visual.
While the North American R1 Sailor Moon DVDs were never remastered, all the Japanese releases that had been released had been.
Whether the DVDs in these new box sets are simply the same Japanese DVDs just repackaged for a lower price or brand new releases with an even better image and sound is unknown. Even if an advertisement for box sets says that they have "newly remastered image and sound" that still doesn't necessarily mean they're actually new as the remastering is new compared to the original tv broadcast version.
We really won't know the answer until the first boxset is released on the 11th of December 2009
. When it is released and I get my copy I'll definitely be doing a comparison review so we can all have a definitive answer to this very good question.
Thanks to R Scida who asked this question via email. Here is the original email:
"Hello! I love your site I check it a few times a week for the latest SailorMoon and your layouts are so cute! Keep up the great work!
But the reason I'm emailing you is because I have a question on the new SailorMoon box sets that will be released soon in Japan.
I have been collecting the Japanese DVDs for the last couple of years and was just curious if you knew if the picture/sound quality was going to be the same as the ones being released in box sets? Was it remastered all over again and has better quality than the ones that were released back in 2002/2003?
I'd hate to have bought all of these to now want to buy the box sets haha
Please let me know!
Thanks!"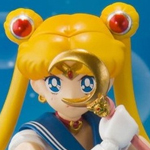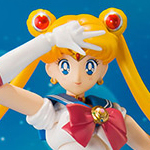 Bandai Tamashii Nations
Sailor Moon S.H. Figuarts Model!
Pre-Order NOW on Amazon.com!

Pre-Order NOW on Amazon.co.jp!

Pre-Order NOW on CDJapan.co.jp!
Pre-Order NOW on JList.com!
Sailor Moon Short Stories #2
Sailor Moon Short Stories #1
Sailor Moon Mug
Luna Plush Toy
Sailor Moon Box Set (Vol. #1-6)
Sailor Moon Luna & Artemis (Set of 2) Pins
Sailor Moon #10
Sailor Moon #11
Tuxedo Mask Mug
Sailor Moon #12
For a complete listing of all the new official Sailor Moon merchandise, check out my Sailor Moon Shopping Guide.

During the special Sailor Moon 20th Anniversary Talk Event in Tokyo, a new Sailor Moon anime due for worldwide release in the Summer of 2013 was announced! For all of the latest information on this exciting new anime, check out my New Sailor Moon Anime Information Page which will be updated constantly with news and images.

Pretty Guardian
Sailor Moon
Super Special DVD-BOX
Every PGSM episode and special!
Coming Soon: In November 2012, special Sailor Moon anime "Memorial DVD Selection" box sets will be released in Japan. Not much is known about these DVDs themselves or how much they will differ from the existing 20th Anniversary DVD Box Sets. Watch this space for news and images of these products.




Sailor Moon Tamashii Nations Shopping Guide
Sailor Moon Costume Shopping Guide
Sailor Moon T-Shirt Shopping Guide
How to Write to Naoko Takeuchi
Sailor Moon Manga Mistakes #9 + #10
2nd Gen English Sailor Moon Manga Shopping Guide
Sailor Moon Accessories Shopping Guide
Sailor Moon Phone Cases & Straps Shopping Guide