Which Sailor Moon Character is Your Favourite?
Normally my answer to this question would be "Artemis!" but since the original question was "Other than Artemis, Luna and Diana, which of the characters is your favorite?" I have to really think about it.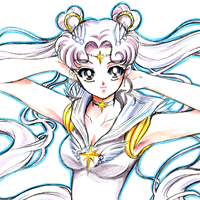 The wonderful thing about the Sailor Moon anime, manga, musicals and live action is that there are so many characters! Unfortunately this makes choosing a favourite really hard! haha.
I've always been a big fan of Sailor V in the manga but there are so many minor supporting characters that fascinate me too!
Recently when I was grabbing my Chibi Dolls for adoption I was limited to only 5 dolls so basically had to choose my favourite characters who ended up being human Artemis, Alan (from the Doom Tree), the Moonlight Knight, Sailor Luna (from PGSM) and Sailor Mars' crows Phobos and Deimos.
Tastes change all the time though and having just reread the manga my current favourite would have to be the ultimate form of Sailor Moon, Sailor Cosmos!
Her character design is just perfect and the fact that she came from an alternate future where she ran away from Sailor Galaxia instead of staying and fight and thus doomed the entire galaxy was just so interesting and her ultimate power.... epic, in the true sense of the word.
There's also the interesting possibility that, with her future possibly no longer existing, she's still in our present after the events of the Sailor Stars manga. Pretty cool!

Video Answer: I also answered this question in a Moonie Mailbag YouTube video! Check it out on YouTube.
Thanks to Achverha for asking this question via Twitter
Love Sailor Moon? Sign up for my free Sailor Moon newsletter to stay up-to-date with all of the latest Sailor Moon anime, manga, and merchandise news.