What is your favourite Sailor Moon anime episode?
My favourite anime episode of Sailor Moon would without a doubt have to be the final episode of Sailor Moon SuperS, Episode 166, "Dreams Forever! Light Throughout the Sky" (Japanese title) or "Sweet Dreams" (English).
It features some of the best animation out of any season of the Sailor Moon anime and has a super fast pace from start to finish.
Story-wise this episode just has so much going for it and really redefines what a Sailor Moon episode can accomplish when it isn't doing Monster of the Day type storylines. Queen Nehelenia's kidnapping of Mini / Chibi Moon seemed so dangerous and savage in this episode despite having previously kidnapped her literally a few episode ago. The chase up the stairwell as the "castle" magically began to float towards the New Moon as the seal on Nehelenia began to work felt like something out of a fairy tale yet much more intense.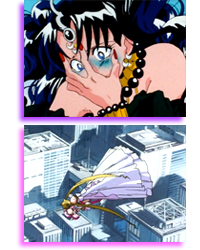 The Zirconia-like creature bursting from Nehelenia's chest has to be the most shocking and disturbing (and brilliantly animated) things any Sailor Moon fan had ever seen in the series so far. It seriously made me say "Holy S*&t!" out loud when I saw it.
What really impressed me though was the Nehelenia flashback which explained how she became the woman she is today. It was both disturbing and tragic watching her people willingly give their dream mirrors to her and had an obvious metaphor to real world world leaders who destroy the dreams of their people for their own personal gain.
What was truly horrifying though and stuck with me long afterwards was the scene in which Nehelenia's mirror begins speaking to her and begins warping her mind for it's own twisted end. The voice acting was simply superb in the English and Japanese versions in this scene. Everything just worked so disturbingly well to make this scene so memorable which was especially surprising considering the character of Nehelenia had been so underused in the SuperS season.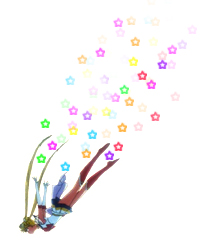 The scene that made this episode number one in my books though was Super Sailor Moon's dramatic jump over the edge of the flying palace after the unconscious Chibi / Mini Moon. As well as being amazingly well directed, acted and animated it also stood out as being the first real scene in the series that explored the wonder and spectacle of a moon princess existing in our present day modern world!
As the (inspired) Moon Gorgeous Meditation music begins playing and Super Sailor Moon transforms into her Princess Serenity form and flies over the city of Tokyo you really do get the sense that this is happening in a real world setting and that it's possible. One can actually imagine what it would be like looking up in the sky and seeing a reincarnated moon princess in her flowing white dress floating across the sky.
The whole scene is breathtaking, realistic, magic and spectacular.
It's not until the episode has finished do you realise that no attack or transformation scenes were used at all in this episode and except for the Golden Crystal being used to summon Pegasus there was no real big magical epic blasts of power being summoned to win the day.
This episode was all about character, plot and a realistic sacrifice with a magical conclusion.
What more could you ask for?

Thanks to Chase for asking this question via email.
Love Sailor Moon? Sign up for my free Sailor Moon newsletter to stay up-to-date with all of the latest Sailor Moon anime, manga, and merchandise news.