Pretty Guardian
Sailor Moon
DVD 8
Buy From Amazon.jp

Two Sailor Soldiers Awaken, Minako gets a Rival and Mamoru Returns to Tokyo!
Cover: The cover this time around features a nice shot of Mamoru in Prince Endymion garb (though with a bad haircut) next to Sailor Moon in attack pose. It's clean and works though the colours chosen come across as a bit off.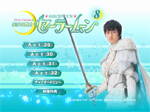 The Menus: Following the style established in the previous DVDs, this one gives Mamoru his first shot at DVD menuness with the same fast loading pages and pretty digital stars flashing across the screen when left idle.
The Chapter Select menus again offer some great production photos taken during the making and promotion of the four episodes on this disk and are again well worth a look as a lot of them weren't released elsewhere.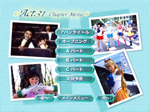 The Special Features: This DVD features a the latest addition to the behind the scenes documentaries included with the previous DVDs with Miyu (Sailor Moon) once more joined by Ayaka (Sailor Venus).
Unlike the previous volume, the two girls talk about some rather interesting bits here such as how difficult it was for Ayaka to portray a character who was literally on her death bed in one scene but then full of energy the next. Ayaka tells Miyu that she had a hard time trying to look powerful in fight scenes but also look as if she was hiding her inner pain at the same time.
They also talk about their opinions of the the new character Mio with Miyu offering an amusing anecdote about her grandparents' hatred for the character because of how mean she is to Usagi on the show.
As with previous installments there are several deleted scenes included which are well worth a watch. Of particula interest is one featuring Rei, Ami and Usagi talking about Makoto's loneliness and Sailor Luna having followed Makoto on her date right into the movie theatre!
Lots of fun and well worth a viewing.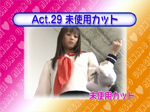 The Episodes: Act 29 kicks off the third and final story arc for the series with the introduction of the brilliantly acted Mio who moves into Usagi's class and becomes and immediate rival for Minako in the Japan idol scene! Sailor Mercury finally awakens as does Sailor Jupiter in the next episode, Act 30 which also gives us some great character moments with Jupiter as well as Motoki.
Sailor Venus then steps into the spotlight as her rivalry with Mio and mission to protect Sailor Moon from her heats up in Act 31 and Act 32 which also features Mamoru's return and finishes on a bitter sweat ending that will leaving you smiling or full of excitement as to what the next episode has in store.
All four episodes are essential viewing and brilliantly put together. Sailor Venus, Sailor Jupiter and Tuxedo Mask (one shirtless scene!) will get a kick out of this DVD.
Buy From Amazon.jp
<-- pgsm dvd reviews main --
<-- reviews main --

Love Sailor Moon? Sign up for my free Sailor Moon newsletter to stay up-to-date with all of the latest Sailor Moon anime, manga, and merchandise news.