Pretty Guardian
Sailor Moon
DVD 2
Buy from Amazon.jp

The second live action Sailor Moon DVD comes on by with more story and a better production all around.
Cover: The front cover features Sailor Mercury front and centre this time while the other four Sailor Soldiers are superimposed behind her in similar poses to the ones they were in on the first DVD. The rear cover features the usual episode descriptions and tech specs.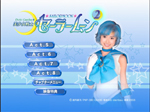 The Menus: This DVD follows in the same style established by the first DVD with a wonderfully animated ribbon intro followed by a burst of animated stars on a loop around a single character, this time Sailor Mercury. The menus are once again fast loading and easy to navigate. Good job here.
The chapter select screens once more feature some great promotional photos taken for each episode which are almost a special feature in themselves.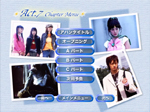 The Special Features: The special feature on this DVD is the second in a series of 10 minute behind the scenes shows hosted by Miyuu Sawai (Sailor Moon). This time around, Chisaki Hama (Sailor Mercury) joins her once again and tell fun stories about how certain scenes were filmed such as the shooting drama scene in Act 5 and how the general feel of the series seemed to change after that episode as more characters were introduced and the story became more complicated. This is something I noticed too so it's great to see the actresses come to this conclusion as well.
There are two deleted scenes shown during this show. One is from Act 5 which shows Usagi and Naru finding Ami after she passed out. It's a very short scene and I can see why it was cut. The second scene is from Act 8 and shows Ami and Usagi talking about Rei and Makoto's fight while Naru and the girls practice their Nako Nako impersonations in the background.
Chisaki Hama and Miyuu Sawai seem to get along really well and the show is all that more fun to watch because of this. Very enjoyable but also very informative show!
The Episodes: This second batch of episodes sees the show gradually begin to find it's feet. Act 5 and 6 feature the same cheesiness shown in the first DVD but Act 7 and 8 see a fair bit of plot advancement, less funky camera angles and better acting all around especially with the addition of Myu Azama as Sailor Jupiter who is one of the more natural actresses on the show, up there with Keiko Kitagawa as Sailor Mars.
Two of the weakest actors on the first DVD, Chisaki Hama (Sailor Mercury) and Miyuu Sawai (Sailor Moon) still come across as rather superficial in their scenes but they're noticeably, especially Chisaki Hama, a lot more comfortable in front of the camera. Chieko Kawabe who plays Naru, Usagi's best friend continues to shine in her supporting role and it's good to see her saving every scene she's in.
Other supporting actors such as Masaya Kikawada (Motoki) and Jyouji Shibue (Tuxedo Mask) also get more to do this time around with Act 7 in particular offering a great example of what these boys can do.
Buy from Amazon.jp
<-- pgsm dvd reviews main --
<-- reviews main --

Love Sailor Moon? Sign up for my free Sailor Moon newsletter to stay up-to-date with all of the latest Sailor Moon anime, manga, and merchandise news.