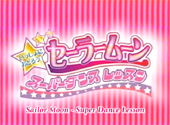 Pretty Guardian
Sailor Moon
Super Dance Lesson
The Dance Lesson feature starts off with the five girls dancing to Cest La Vie on the same stage used for the Kirari Super Live event.
Sailor Moon then thanks everyone for watching Sailor Moon...
Sailor Mercury adds "Our songs..."
Sailor Mars, "...and dances..."
Sailor Jupiter, "...will all be shown!"
Sailor Venus then hopes that everyone has fun dancing together with them.
The camera then pans out to show human Luna watching them on the tv in the karaoke room. Luna concludes that being a good dancer is a true sign of a Sailor Soldier and then tells herself that she will improve her skills to become stronger.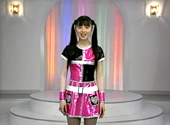 Makoto enters and tells Luna that she'll help her. Usagi then enters and the two perform Here We Go.
As they finish the scene changes to Makoto teaching Luna the dance moves for Here We Go. Usagi then returns and the three perform the dance one more time.
Usagi then instructs the viewer on the moves for Minako's Romance before her, Luna and Makoto perform it.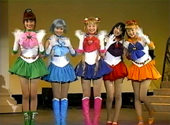 The three girls then transform into their Sailor Soldier forms and perform Kirei Sailor Dream.
As they finish, we're taken back to Sailor Moon, Mercury, Mars, Jupiter and Venus on the stage and they all say goodbye.
Interesting Facts

Super Dance Lesson was a special VHS video given to readers of several magazines in Japan during the show's run that required them to send in a form that was included in the magazines. It is very short, about 17 minutes and has never been released commercially outside of this limited time offer.

The beginning and end of the video was obviously filmed on the same location used for the Kirari Super Live performance.
<-- Live Action Main-->
Love Sailor Moon? Sign up for my free Sailor Moon newsletter to stay up-to-date with all of the latest Sailor Moon anime, manga, and merchandise news.