Pretty Guardian
Sailor Moon
Act 30
Aired: 8th May 2004
Usagi's friends have turned against her! Mio has put a deliberate spin on the previous episode's events, how she hurt her hand and Usagi ran away and now everyone hates Usagi!
Naru and Ami both leap to Usagi's defence and tell everyone that there's no way Usagi would wish anyone harm. Mio also tries to defend Usagi (though just to make herself look innocent) but everyone tells Usagi that Mio is just trying to defend her and that they know Usagi meant ill.
After school, Mio apologises to Usagi and tells her that she's spoken to Minako and that they will put on a concert together to prove that there's no rivalry between them. Mio then suggests that Usagi should do all the work to show everyone that her and Mio are friends. Usagi jumps at the chance and Mio smiles evilly.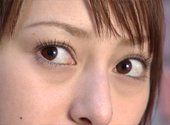 In the Dark Kingdom, Kunzite has decided to rebel against Queen Beryl but Beryl holds aloft the dark rose with which she awakened Kunzite and blasts him with a powerful pulse of evil energy. She then tells him that Queen Metallia's powers have once more grown and that her's too have increased. Kunzite then tells her that he will serve her once more.
At school the next day, Mio confronts Naru and asks her why she's defending Usagi. Naru tells her that she knows Usagi would never hurt anyone and is aware that Mio is up to something. Mio mentally causes Naru to double over in pain.
In Crown, Luna has got Makoto playing the paper catching game, determined to get her to awaken her powers. Usagi tells Makoto that she'll do it with her and they all pick up chopsticks and begin playing together so Makoto doesn't feel left out. She is the final Sailor Soldier amongst them to awaken.
That night, Usagi begins work with Mio, decorating a public stage for Minako's performance. As the time draws near and the seats begin to fill with students from her and other schools, Minako is nowhere to be seen. Mio pretends to be worried and borrows Usagi's mobile to "call her". Mio then comes to the conclusion that Minako isn't coming and that this whole thing was a prank organised by Minako to ruin Mio's career and begins to walk towards the stage to publicly appologise to the crowd.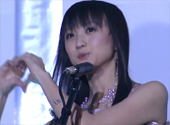 Usagi sees how upset Mio is and volunteers to appologise in her place. She steps on stage and tells everyone that Minako isn't coming but the crowd refuses to accept this and yells out "WHERE I MINAKO?!?". Backstage, Mio is laughing at Usagi's pain and says how much she loves seeing Usagi like this.
All of a sudden, loud music begins to play. The crowd, Usagi and Mio run over to where it's coming from and find a large truck which opens to reveal Minako, a band a full on concert lights and speakers!
Minako continues to sing her new song, Kiss Kiss! Bang Bang! as the crowd applauds along with Usagi who is over the moon. Mio meanwhile is shocked and furious at Minako actually showing up.
Seeking to disrupt the concert, Mio summons a Youma to appear. Usagi sees it and runs after it, transforms into Sailor Moon and defeats it with Moon Twilight Flash.
Transforming back into her civilian form, Usagi runs up to Minako as the concert finishes and thanks her for coming. Mio also thanks her but Minako tells Mio that she didn't really expect her come at all as she was never told about the concert. She then tells Usagi that she bet Mio called all of her friends and told them you'd be somewhere else which is why they never showed up to support her. Usagi calls Ami, Rei and Makoto who are waiting for her at an outdoor cafe. Usagi apologises to them and then hangs up and asks Mio why she did this.
Mio pretends to cry and tells Usagi and Minako that she wanted Usagi alone with no friends so she could have Usagi to herself. Minako can't believe how lame this excuse it but Usagi completely buys it and tells Mio that she didn't have to do all this for them to be friends. Usagi then thanks Minako again and runs to catch up with Rei and the others.
Minako warns Mio not to do anything like this to Usagi again or she'll be sorry. Mio continues to pretend she's a nice girl and thanks Minako for coming tonight though as she leaves gives Minako an evil menacing look.
Shopping Info

Read My Review / Buy From Amazon.jp
<-- Act 29 --
-- Live Action Main--
-- Act 31 -->
Love Sailor Moon? Sign up for my free Sailor Moon newsletter to stay up-to-date with all of the latest Sailor Moon anime, manga, and merchandise news.