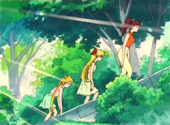 Japanese Episode 67 (Missing Episode)
Sailor Moon R
Island Vacation! The Sailor Soldiers' Day Off!
It's Summer in Tokyo and all the girls are really hot. Serena, Lita and Amy decide to go by Raye's temple and see what she's up to. When they get there they see Rini by herself. Rini tells them that she came by to play with Raye but found that she's gone to a southern island to train.
The girls are shocked at this and can't believe that Raye would go on a holiday without them! They all decide to go crash her holiday and have some fun in the sun as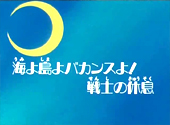 well.
On the beach, Raye is glad to finally have some peace and quiet and begins her Shinto traning. Just as she begins though, Serena's voice startles her and she lands face down in the sand and then gets hit by a small wave.
Moments later back in Raye's incredible holiday house, Raye asks them all what they're doing here. Serena tells her that Rini wanted to play with her. Raye says that's fine but that doesn't explain all the girls plus Luna and Artemis. After some more discussion, and the moon kitties uncovering Raye's swimsuit, they all decide to go for a swim and relax.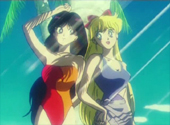 After the swim, Rini and Raye decide to build a sandcastle together. While building, Rini sees the head of a dinosaur in the ocean! When she looks up though, it's gone.
Later that afternoon, Lita cooks everyone some fish. Rini tells them that she hates it though. Raye kindly asks her to have a go as she hasn't even tried it yet but Rini storms off and says that she hates Raye now too.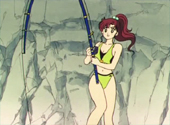 While Raye was wondering if she was too harsh on Rini (why, I don't know) Artemis and Luna appear, sweltering in the tropical heat, and ask where Rini is. The girls say that she's swimming in the ocean but Artemis tells them that she isn't anywhere to be seen.
Turns out Rini had drifted away! As Rini begins to realise what has happened, sharks (of course) begin to circle her. Lucky for Rini, the dinosaur she saw earlier comes to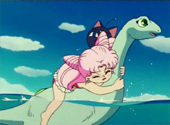 her rescue! Unfortunately the sharks begin to attack it. Rini uses Luna P to make a propelor that blasts them to safety in a cave at the base of a volcano.
It's there that Rini discovers broken egg shells and realises that the dinosaur is a baby! She calls him Kirin and they become fast friends.
Outside the girls and cats have jumped on Raye's yaught and are looking for Rini. Luna and Artemis who are very seasick right now and are leaning over the side, see a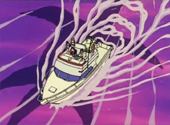 dark shadow pass underneath them.
The shadow turns out to be the baby's mother who is returning to her cave. Rini is scared at first but then saddened as the mother tries to take her baby away. Rini wants Kirin to stay with her though and as Kirin does return to Rini the volcano begins to erupt! A cave-in occurs and Rini, Kirin and it's mother are trapped.
On the boat, Raye senses Rini in the volcano and all the girls transform.
When they arrive, they find Rini who begs them to save the two dinosaurs. All the Sailor Scouts then use their attacks in various ways to stop the lava flow that's pouring
down the cave walls towards them.
They're unable to stop the lava though and eventually break Kirin and his mother out of the cave-in. Rini then passes out.
As Rini regains conciousness on Raye's boat. The girls tell Rini that the Sailor Scouts came and saved her and Kirin. Rini then looks up and sees Kirin and it's mother swimming away over the horizon. Rini wishes that the two are never separated again.
Rini then tells Raye that she can now eat fish. Kirin taught her!
Interesting Facts

While the characters refer to Kirin and it's mother as a "dinosaur", Plesiosaurs are in fact not dinosaurs at all.

Fortunately this was the only episode that was never adapted into English from the Sailor Moon R season and it's quite easy to seem why; the blatant fanservice (slow panning swimsuit shots), massive plot holes (never mind Raye owning a holiday home and a speed boat, how the heck did Serena and the others afford the plane tickets to go join her and get their parents' permissions?!?) as well as the inane use of cartoon cliches such as dinosaurs, volcanoes, sharks and someone getting lost at sea all within the one episode all made the episode a bit of a joke so much so that Naoko Takeuchi even refused to release it in the Region 1 Uncut DVD Box Sets making it the only episode of the first two seasons never to see a release of any kind outside Japan.
Shopping Info
<-- Sailor Moon R Main -->
Love Sailor Moon? Sign up for my free Sailor Moon newsletter to stay up-to-date with all of the latest Sailor Moon anime, manga, and merchandise news.