Where can I buy the Sailor Moon Star Locket?
This has got to be one of the most frequently asked questions I get at Moonkitty.net.
A replica of this Sailor Moon item is definitely on the top of many Moonie's list of Sailor Moon collectables to get yet it's also one of the hardest to come by.
Bandai did create an official replica of the Star Locket way back when the first season of the Sailor Moon anime aired in Japan unfortunately most official sources such as Amazon
(see their page for the official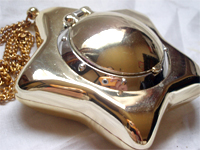 Sailor Moon Star Locket here
) have sold out of the product.
Your best bet would be to find the Star Locket at an online auction marketplace. For example I found several auctions for it here on iOffer and also here on eBay.
Since the Star Locket is so rare the price is most definitely going to be high. Perhaps the best option would be to buy a cheaper Star Locket replica which can also be found in auctions.
Another option would be to request a cosplay costume supplier like Catzia to make a custom replica for you.
Finding a Star Locket won't be easy. I wish you all the luck in finding one! Sailor Moon Says!

August 2012 Update: With the revival of Sailor Moon around the globe, GE Animation has released a new official Star Locket
! This release is a jewelry replica of the Sailor Moon item. It doesn't open or play music as it's not a toy but a physical jewelry piece that you can wear every day or as part of a cosplay or decorate your room with. You can buy this Star Locket (which has been given the official name, "Usagi's Carillion") here
.
After other Sailor Moon related replicas and jewelry? Check out my Sailor Moon Jewelry Shopping Guide which has a complete listing of all the new official Sailor Moon necklaces, earrings and other pieces.

Thanks to Nahyt Larancuent for asking this question via email.
Love Sailor Moon? Sign up for my free weekly newsletter to stay up-to-date with all of the latest Sailor Moon anime and merchandise news.