Click the "Like" button at the bottom of a page to get it featured in this activity box for other Sailor Moon fans to see!

survey hosting


Only vote once. Sailor Moon Says!

Are there any Sailor Moon ripoffs?
You bet!
The Sailor Moon, when it first started was very unique. There had never really been a 100% female super hero team based anime before in Japan. In fact there hadn't been that many female super heroes period in Japan until Sailor Moon came along. It's massive success inspired numerous other series in Japan. An example would be Card Captor Sakura by CLAMP which also features a school girl who gains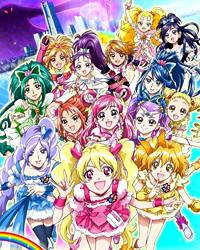 magical powers and a cute sidekick but also includes many other original characters, plot twists and concepts not seen in Sailor Moon.
Many series creators however were not as creative as CLAMP though and blatantly ripped off not just story elements from Sailor Moon but also character designs and even dialogue!
The most recent example would the series Pretty Cure which started off in the first season by only using the concepts of school girls with magical powers and cute sidekicks and being quite unique regardless of these similarities. By the second season though it introduced a blonde girl with heart based attacks and faster and faster Pretty Cure began to evolve more and more into a Sailor Moon clone. By last year's season, Fresh Pretty Cure, the show had become a blatant ripoff of Sailor Moon with the show consisting of a team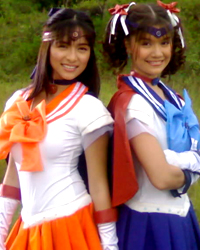 of super powered school girls in short skirts, cute talking animal sidekicks and a leader that bared more than a passing resemblance to Sailor Moon. In fact there was even some promotional material from Bandai that had the leader, Pretty Cure Peach striking the same famous pose as Sailor Moon!
Incidentally, what's really frustrating about Pretty Cure is that it's become absolutely HUGE in Japan! The merchandise is selling through the roof and the series shows no signs of slowing down. What's worse is that the companies involved with it's production are the same ones that would be needed for a new Sailor Moon anime and since Pretty Cure is doing so well, they probably won't see a reason to create a rival series for the same audience.
Another famous Sailor Moon ripoff is the live action series Super Twins from the Philippines. I think this photo speaks for itself.
The ripoffs aren't limited to Asia though. Numerous North American cartoon series are obviously riding the wave of Sailor Moon's success. W.I.T.C.H.
and Winx Club
are two popular examples. Both follow the familiar format of 5 girls with super powers.

Thanks to Michelle for asking this question via email.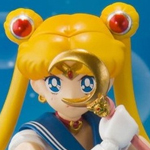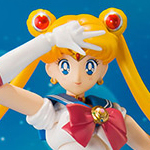 Bandai Tamashii Nations
Sailor Moon S.H. Figuarts Model!
Pre-Order NOW on Amazon.com!

Pre-Order NOW on Amazon.co.jp!

Pre-Order NOW on CDJapan.co.jp!
Pre-Order NOW on JList.com!
Sailor Moon Short Stories #2
Sailor Moon Short Stories #1
Sailor Moon Mug
Luna Plush Toy
Sailor Moon Box Set (Vol. #1-6)
Sailor Moon Luna & Artemis (Set of 2) Pins
Sailor Moon #10
Sailor Moon #11
Tuxedo Mask Mug
Sailor Moon #12
For a complete listing of all the new official Sailor Moon merchandise, check out my Sailor Moon Shopping Guide.

During the special Sailor Moon 20th Anniversary Talk Event in Tokyo, a new Sailor Moon anime due for worldwide release in the Summer of 2013 was announced! For all of the latest information on this exciting new anime, check out my New Sailor Moon Anime Information Page which will be updated constantly with news and images.

Pretty Guardian
Sailor Moon
Super Special DVD-BOX
Every PGSM episode and special!
Coming Soon: In November 2012, special Sailor Moon anime "Memorial DVD Selection" box sets will be released in Japan. Not much is known about these DVDs themselves or how much they will differ from the existing 20th Anniversary DVD Box Sets. Watch this space for news and images of these products.




Sailor Moon Tamashii Nations Shopping Guide
Sailor Moon Costume Shopping Guide
Sailor Moon T-Shirt Shopping Guide
How to Write to Naoko Takeuchi
Sailor Moon Manga Mistakes #9 + #10
2nd Gen English Sailor Moon Manga Shopping Guide
Sailor Moon Accessories Shopping Guide
Sailor Moon Phone Cases & Straps Shopping Guide