Click the "Like" button at the bottom of a page to get it featured in this activity box for other Sailor Moon fans to see!

survey hosting


Only vote once. Sailor Moon Says!

Welcome to my Sailor Moon Cards & Games Shopping Guide! Here you'll find information on Sailor Moon trading cards, playing cards (aka poker cards) and collectible card games (CCG).
Each item has an image and a link to where you can buy it online as well as a Pinterest "Pin It" buttun under the product image so you can pin it to your boards and share with your friends.
Happy Playing!


Sailor Moon Collectible Card Game CCG Two Player Starter Deck

Amazon.com



Sailor Moon
Trading Card Box

6 Cards Per Pack - 30 Packs Per Box!
Randomly Inserted Holographic Foil Game Cards!

Amazon.com



Sailor Moon
Playing Cards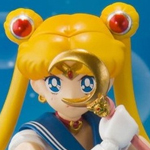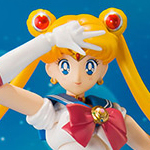 Bandai Tamashii Nations
Sailor Moon S.H. Figuarts Model!
Pre-Order NOW on Amazon.com!

Pre-Order NOW on Amazon.co.jp!

Pre-Order NOW on CDJapan.co.jp!
Pre-Order NOW on JList.com!
Sailor Moon Short Stories #2
Sailor Moon Short Stories #1
Sailor Moon Mug
Luna Plush Toy
Sailor Moon Box Set (Vol. #1-6)
Sailor Moon Luna & Artemis (Set of 2) Pins
Sailor Moon #10
Sailor Moon #11
Tuxedo Mask Mug
Sailor Moon #12
For a complete listing of all the new official Sailor Moon merchandise, check out my Sailor Moon Shopping Guide.

During the special Sailor Moon 20th Anniversary Talk Event in Tokyo, a new Sailor Moon anime due for worldwide release in the Summer of 2013 was announced! For all of the latest information on this exciting new anime, check out my New Sailor Moon Anime Information Page which will be updated constantly with news and images.

Pretty Guardian
Sailor Moon
Super Special DVD-BOX
Every PGSM episode and special!
Coming Soon: In November 2012, special Sailor Moon anime "Memorial DVD Selection" box sets will be released in Japan. Not much is known about these DVDs themselves or how much they will differ from the existing 20th Anniversary DVD Box Sets. Watch this space for news and images of these products.




Sailor Moon Tamashii Nations Shopping Guide
Sailor Moon Costume Shopping Guide
Sailor Moon T-Shirt Shopping Guide
How to Write to Naoko Takeuchi
Sailor Moon Manga Mistakes #9 + #10
2nd Gen English Sailor Moon Manga Shopping Guide
Sailor Moon Accessories Shopping Guide
Sailor Moon Phone Cases & Straps Shopping Guide

English Sailor Moon Manga: The Sailor Moon manga has finally been re-released in English! Here are both the current volume and the next one. For more information on this release as well as reviews and shopping links to other volumes check out my Sailor Moon English Manga Shopping Guide.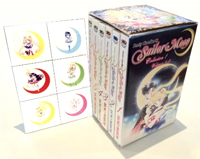 Sailor Moon Manga Box Set 1
Contains manga volumes 1 to 6 and
comes with bonus stickers.
Amazon.com
/ Amazon.ca
/ Amazon.co.uk

Amazon.jp
/ BookDepository.com
FishPond.com.au / FishPond.co.nz


Sailor Moon Manga Box Set 2
(29th October)
Contains manga volumes 7 to 12.
Amazon.com
/ Amazon.ca
/ Amazon.co.uk

Amazon.co.jp
/ BookDepository.com
FishPond.com.au / FishPond.co.nz
Coming Soon: Japan will be seeing a re-re-release of the Sailor Moon manga sometime in 2013. These volumes will be in a special large A4 size format, possibly more colour pages and re-edited from 14 volumes down to 10. Sailor V will also be re-re-released in this format in one special volume. Check back for more details and images that are sure to be announced soon. No release date has been set.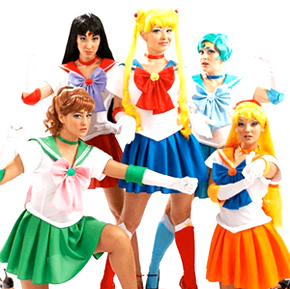 Get ready for Halloween with new, official Sailor Moon costumes and accessories! All listed with images and shopping links in the Sailor Moon Costume Shopping Guide!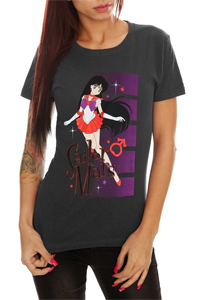 Buy on Amazon.com
more new sailor moon t-shirts here

"How many Sailor Moon S openings are there?"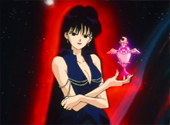 Sailor Moon S
Darkness, My Old Friend
As the end of the world draws ever closer, Hotaru battles Mistress 9 for control of her body and her destiny as Sailor Saturn! When the dust settles, everyone will be affected.
read the full episode guide

If you're after more detailed stats for your own Twitter account I highly recommend Twitter Counter. Awesome site with some really cool and easy to use tools.



TsubasaAnime.net: A guide to CLAMP's anime and manga series Tsubasa Reservoir Chronicle, xxxHolic and their crossovers in Kobato., Drug & Drop and other CLAMP series such as the new Gate 7 and the classic Card Captor Sakura.
25Cafes.com: My travel blog featuring 100% smoke free cafes in Tokyo, Japan. Also covers cafes in Yokohama and soon to expand to other cities in Asia and around the world.
StarbucksMug.com: Where I blog about my growing Starbucks mug collection.
@Shuttlecock: Stalk me on my personal Twitter account as I talk about living in Japan, learning Japanese and Mandarin Chinese, non-Sailor Moon animes and other random topics.


Can't find what you want? Search Moonkitty.net with this search box. There's heaps of content below the surface. Sailor Moon Says! ;)