1999 Spring Special Musical
Sailor Moon
Sailor Moon The Legend of Kaguya Island
Sailor Moon Kaguya Shima Densetsu
An introduction scrolls up the screen telling the story of the rogue asteroid that longed to be a planet and it's personification, Dark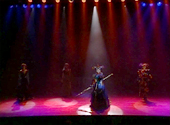 Plasman. It tells of how it almost destroyed the Earth in the past causing the people of Earth to ask for the Moon Princess' help in repelling him. The Earth and Moon joined forces and with the power of the Imperium Silver Crystal, Dark Plasman was defeated and sent far away. However in the process, great floods cause the death of almost all the people on the Earth and Moon.
Overture ~ Suisei Koataru no Yokubou - Overture ~ Comet Quartile's Ambition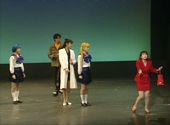 Dark Plasman, now once again nearing the Sol System summons his servants, Leah Ruby, Bilhah Emerald and Zilpar Sapphire to his side and commands them to capture the Imperium Silver Crystal so he can have his revenge and once more attempt to take over the Earth. Leah Ruby goes to Earth immediately and ends up inviting Usagi, Mamoru and all the girls on a boat cruise to a mysterious island called, Kaguya Island.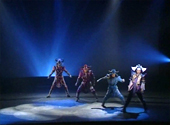 Ruby no Aka ~ Yume wo Kaimasu Shima no Tabi - The Redness of Ruby ~ Buy a Dream Trip to an Island
Elsewhere, a separate group of individuals is also after the Imperium Silver Crystal. They're spce pirates lead by a female captain called Loof Mellow.
Onna Kaizoku no Sakusen - A Female Pirate's Strategy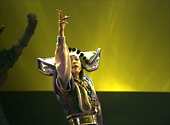 The captain sends her three underlings to infiltrate the cruise as ship crew and to get the crystal before the boat reaches the island because then it'll be too late.
The next day, all the girls are excited and on the ship's deck. Usagi is sleeping on a deck chair as they all had to get up at 6am but is eventually woken up and joins in the excitement. Usagi tells Mamoru that she loves him but then they all sing about how much they love jewels and what their birthstones are.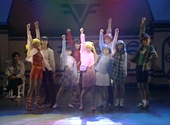 Ai Yori Hoseki Kaguya Shima - Jewels Before Love Kaguya Island
Mamoru becomes aware that the crew is watching them and suggests that they all return to their cabins to plan for the trip ahead.
Loof Mellow, aware that one of the girls is carrying the crystal causes a massive storm that rocks the boat. Several sea creatures are also summoned and begin to attack everyone. The Outer Soldiers transform and begin fighting them and then the Inners and Super Sailor Moon follow suit.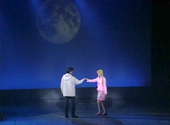 Dark Plasman from afar zaps them all though and the shop crashes into the island, sending everyone overboard.
Arashi no Naka Zenshousen - Skirmish in the Storm
On the island, three little kittens see the crash and talk about how it's been years and years since they last saw humans.
Natsukashi ha Naze? - Why is this Nostalgic?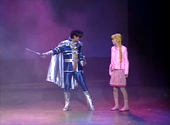 As Usagi, Mamoru and the girls wash up on the island and realise that they made it safe and sound, Leah Ruby, Bilhah Emerald and Zilpar Sapphire appear in their tourism outfits and welcome everyone to the island. After a bit of confusion, everyone gets really hyped up and begins their holiday on the island while looking for the legendary jewels that are apparently in big supply in the island.
Welcome Harehare Hirehire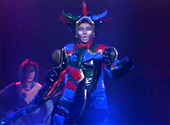 Elsewhere, the space pirates lament on the tragedy that happened 5000 years ago that they must never forget.
5000 Nen Kaguya Shima - 5000 Years Kaguya Shima
Off on their own, Usagi and Mamoru are exploring a cave in their search for jewels. Mamoru begins to freak out in the dark and wants to leave but Usagi is determined to find some stones.Surprisingly she does find some gems and places them in her pockets as they both leave.
You're My Jewlery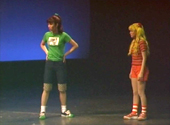 As they exit the cave, Chibi Usa appears! Turns out she's run away from hom due to her mother's strict rules and has come to the Present to relax.
Chibi Usa no Hanran - Chibi Usa's Rebellion
The three kittens from before then appear and make a big fuss. Chibi Usa says they want Usagi to give back the jewels she took before but before they can work it out they're scared away by the arrival of all the girls.
Just as they begin to ask what Chibi Usa's doing on the island the pirates attack and demand the crystal! Unfortunately Dark Plasman's henchmen also attack! The girls try to transform but they can't. Apparently there's too much evil energy on the island!
Elsewhere a mysterious hero called the Space Knight helps Loof Mellow in a battle. She asks him if he's after the crystal for her or for Plasman and he replies neither.
I Do Justice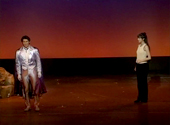 Back with everyone else, a strong shockwave is felt and they're all told Dark Plasman has just entered the solar system. Hotaru then begins to glow a mysterious glow and demands that Plasman's people leave the island immediately.
Hitosuji no Hikari no Kokoro ~ Yabou no Kao - Earnest Light of the Heart ~ Face of Ambition
From afar, Dark Plasma recognises Usagi as the Moon Princess and wonders why she's on the island as well.
Star Glory
Later that night, Minako, Rei, Ami and Makoto are begining to give in to dispare as Rei's powers no longer work, they are still unable to transform and they have no way of communicating with the outside world.
Hyouchaku Shita Keredo... - We've Made it to Shore But...
Luckily Usagi shows up with several platers of food! All the girls begin to eat it but Mamoru is suspicious. Usgai finally says that she just found it in the jungle. In the distance,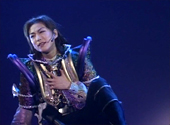 Setsuna sees King Endymion wearing an appron. She smiles.
After all the food is gone they all decide to create a signal fire and split up. Chibi Usa wants to be alone so they leave her be.
While she's sitting by herself, the three kittens return and tell her that they're waiting for their mothers who disapeared so long ago. Chibi Usa though tells them that mothers aren't all that great.
Okasan te Nan Darou - What is a Mother?
Just Love Wasurerarenai - Just Love, Can't Forget It
Elsewhere King Endymion, after meeting with Setsuna, runs into Loof Mellow and it's revealed that he is the Space Knight. He tells her that he's aware that she's more than a pirate and she admits that she was the original princess of the Earth 5000 years ago. She then tells him the story of how the asteroid originally came towards Earth and tried to sow four Dark Crystals into the planet in an attempt to destroy it.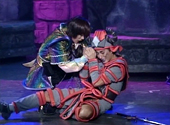 After the first three were sucessfully planted the people of Earth begged for help from the carrier of the Imperium Silver Crystal. That person helped and shifted the Earth's orbit which saved the planet but created massive earthquakes and typhoons which killed nearly everyone.
On another part of the island Usagi and everyone else has gathered. The kittens then run up to them and it's revealed that the voice speaking through Hotaru earlier was the kittens but also the thousands of souls that were killed when
Dark Plasman first came to Earth. Usagi gives them their jewels back in the form of necklaces she made which thrills the kittens. They then tell everyone that Chibi Usa has been kidnapped!
Everyone races to the temple just in time to save Setsuna who had planned with Endymion to save Chibi Usa earlier. The Space Pirates also arrive and as the asteroid gets even closer to Earth they begin to fight Dark Plasma who appears in person.
He then kills the three android servants of Loof Mellow. Loof Mellow draws her sword and walks towards a ruin that has the Sailor Soldiers' symbols on it. She everyone that she had lived for so long for revenge but now she has a different reason for being and thrusts her sword into the ruin, causing it to flash and herself to disapeaar. All the girls can now transform!
Solar Miracle Make Up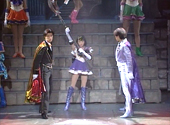 They all manage to kill him but his servant revives him and he laughs at how they didn't know that his soul is in two bodies.
He zaps the three kittens. Leah Ruby, Bilhah Emerald and Zilpar Sapphire then notice their gems hanging around their necks and realise that the kittens are their children who had been transformed into those forms to save them 5000 years ago! The kittens tell their mothers how happy they are but unfortunately pass away in their arms.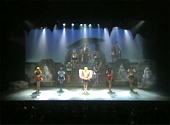 Leah Ruby, Bilhah Emerald and Zilpar Sapphire rebel against Dark PLasman but he easily destroys them with one blast.
Yatto Aeta Ne - We Finally Meet
Tuxedo Mask and King Endymion blast Dark Plasman with Tuxedo Smoking Bomber and try their best to defeat him.
And Believe in All
Sailor Saturn then speaks up and, with the voices of the thousands of souls that were lost before she gives Super Sailor Moon the power to power up to Eternal Sailor Moon.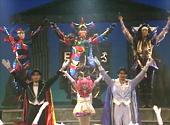 Link
She and Super Sailor Chibi Moon then defeat Dark Plasman with Starlight Double Honeymoon Therapy Kiss. Leah Ruby, Bilhah Emerald and Zilpar Sapphire and the kittens are then revived. Everyone is releived.
Mina Dare ka ni ai Sareta - Everyone is Loved by Someone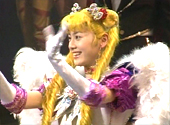 After the curtain lowers, it rises again as the cast bows to an instrumental Link. All the Sailor Soldiers then perform a special curtain call of;
Everlasting Moonlight
and the Sailor Moon musical classic,
la Soldier.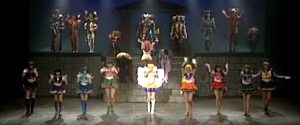 Shopping Info
<-- Previous Musical -- Sailor Moon Musical Main -- Next Musical -->