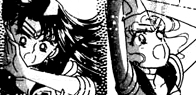 Sailor Planet Attack [manga]
First Appearance: English Manga #3, Japanese Manga #2.
Japanese Name: Sailor Planet Attack
See Also: [anime] & [live action]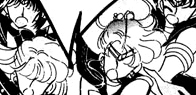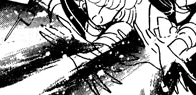 In Brief: One of the most powerful attacks used in the manga that incorporates a number of Sailor Scouts each time it is used. Interestingly enough, Sailor Moon is not required for the attack to work.
Cultural: " Pang suggests that westerners' fear of such heavenly signs may have been ingrained by the 1345 A.D. planetary conjunction in the constellation Aquarius, which was followed by the Black Death that killed a third of Europe's population.
In contrast, he said, Orientals have always considered a five-planet alignment as a favourable omen, signalling the dawn of a new age and the world's renewal.
While the beginning of a day is dawn, a five-planet conjunction occurring at dawn, with a new moon, and the start of spring would truly be the beginning of all cycles, he said. For calendar makers, such a moment would also be an ideal starting point for counting days, months, years and planetary periods."
-- Taken from Astronomy Mailing List Archive
The Move: In every version of Sailor Moon each Sailor Scout calls out their planet's power, i.e. "Mars Power!" one by one and then finally every Sailor Soldier participating screams out "Sailor Planet Attack!". Occasionally the wording can differ depending on the characters involved and their current Sailor Soldier form. For example, Sailor Mars can use "Mars Power" or "Mars Star Power".
<-- Return to the Sailor Moon Guide --