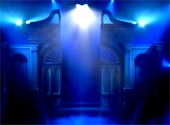 2001 Sailor Moon Musical
Sailor Moon
Birth of the Princess of Darkness, Black Lady
Tanjou! Ankoku no Princess Black Lady
It's the 30th century and Sailor Pluto the guardian of space and time stands at the Door of Time.
Forbidden Hades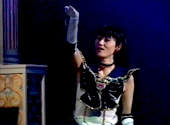 Small Lady (aka Chibi Usa or Usagi) appears and begins ranting about how she can't be her mother's daughter because her mother is so dignified and she's so clumsy and noone likes her.
Sailor Pluto gives Small Lady a small key to the Door of Time and tells her that whenever she's upset she should hold it and say "Abracadabra". As Small Lady tests it out a giant explosion is heard. Small Lady runs away as Sailors Uranus, Neptune and Saturn arrive and inform Pluto that Neo Queen Serenity has been sealed away and the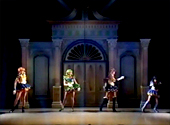 Crystal Palace destroyed.
Broken MOBIUS
Suddenly the Door of Time activates as Small Lady travels through it.
In the present in Azabu Juban, it's night and a man is by himself in the park. Suddenly lights appear and he spots strange people. He screams out that they're aliens and runs away.
The next morning Usagi, Ami, Rei, Makoto, Minako and Mamoru are enjoying themselves and discussion the UFO sightings.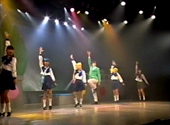 Private Mystery Circle
Small Lady then appears and realising who Usagi is points a gun at her and demands that she hand over the Imperium Silver Crystal. Mamoru and the girls manage to get the gun off of her and luckily she forgets what she's doing and begins to focus on Mamoru.
A weird man then arrives and introduces himself as "Rugby Man". He fights the girls and performs pathetic powerups in an attempt to get Small Lady (who they're now calling Chibi Usa) but is soon stopped by Usagi who transforms into Sailor Moon.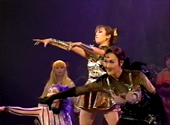 Several strangers the arrive; Coan, Berthier and Calaveras but after a quick threat, disappear.
Chibi Usa then tells them that she's Usagi and Mamoru's daughter from the 30th century and that a giant Black Crystal appeared and killed everyone. She then asks them for their help.
In the future, Prince Diamond, Sapphire, Emerald, Wiseman, the Three Sisters, a robot and two little girls born from humans begin scheming.
Rise! A Family if Rebels! - Kekki! Hangyaku no Ichizoku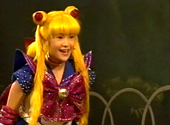 They all choose their targets and travel back to the 20th century to take over the past and begin their new legacy of the Black Moon.
Rainbow Coloured Monochrome - Niji Iro no Monochrome
The two young girls however are instructed by Wiseman to befriend Chibi Usa and bring her to him.
In the present Usagi and the girls are practising for a competition.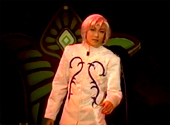 La Soldier
All the girls begin fighting about what the correct dance moves are but quickly realise that this whole contest is a trap to draw out the owner of the Imperium Silver Crystal.
Emerald, Cooan and others appear and perform their own version of La Soldier with the two young girls singing.
La Soldier (Full Orchestra Medley Version)
Minako then begins to laugh about how ridiculous this contest is as Usagi is the true holder of the crystal. Emerald then points at Usagi and announces that she's this era's crystal holder and commands everyone attack.
Tuxedo Versus
Luckily Tuxedo Mask arrives and fights them off but he begins to get overpowered. Sailor Jupiter, Mercury and Mars transform but are captured one by one. Sailor Venus tries to defeat the enemy but she's still not strong enough.
Traditional the Grace (Storm of Love) - Traditional the Grace (Ai no Arashi)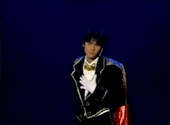 Usagi then appears as Super Sailor Moon and blasts the enemy away with the light of the Imperium Silver Crystal. When the light clears only Super Sailor Moon, Sailor Venus and Tuxedo Mask remain. They wonder where Chibi Usa went to and begin looking for her.
Elsewhere, the two girls talk to Chibi Usa about parents and how they never have time for children. Chibi Usa reveals that her mother forgot her birthday. With some promoting from the girls she pulls out her key and opens the portal to the future. Super Sailor Moon, Sailor Venus and Tuxedo Mask arrive.
Innocent Diamond
Super Sailor Moon, Tuxedo Mask and Sailor Venus arrive at the Door of Time but are confronted by members of the Black Moon. Sailors Pluto, Saturn, Neptune and Uranus (future versions) come to their aid. Unfortunately Prince Diamond himself appears and uses his third eye to hypnotise Super Sailor Moon and Sailor Venus and takes them with him.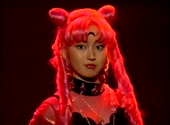 The Outers then take Tuxedo Mask to the Neo Crystal Tokyo Palace.
Just after they leave and the door closes, Chibi Usa arrives by herself. Wiseman appears and convinces her to come with him and take his hand. As soon as she does so she's corrupted and transformed into the evil Black Lady.
Meanwhile on Nemesis, Usagi wakes up in Neo Queen Serenity's clothes and is confronted by Diamond, Sapphire, Emerald and the others.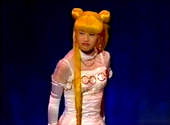 They tell her that she can't transform this close to the Black Crystal and that her friends are dead.
She doesn't believe them and runs out of the room. Diamond lets her go and tells Sapphire that she can't escape their palace. Sapphire becomes concerned over Diamond's obsession with Serenity and worries that he's straying from their plan.
Wiseman then enters with Black Lady who tells them all that Wiseman is wise and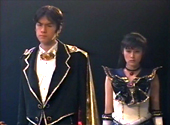 should be followed.
Moments later, Emerald confronts Wiseman who gives her a black crown to wear. As soon as she puts it on though her arm transforms. Wiseman tells her to use it to kill Serenity.
Black Moon Signal
In the basement of the palace, Usagi runs into Emerald who attacks her with her new hand. Luckily Diamond arrives and black the attack and blasts Emerald. She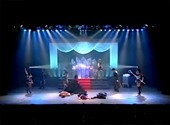 demands to know why he's so fascinated with Serenity. Sapphire appears and tells her that Diamond loves Serenity more than his own family. Diamond blasts him too and tells them that he hasn't lost sight of their plan and that they should not trust Wiseman. They leave.
Usagi, feeling her energy drained from her by her proximity to the Black Crystal lies on the floor and screams out to everyone.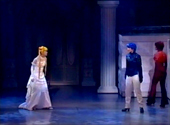 Sailor Venus who is being held nearby hears her and yells back but Usagi can't hear here. Venus looks around and finds Mars, Mercury and Jupiter. As they all explore their cell they spot a dead corpse on the wall.
Can't Return Everyone's Love - Mina no Ai Kaesanai
Meanwhile in the Crystal Palace Wiseman confronts the Outers and Tuxedo Mask. They begin to see through his disguise though and attack him. He then holds up his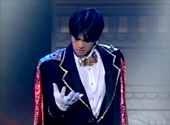 crystal ball and takes them all to Nemesis.
When they arrive, Sailor Pluto uses her powers to let Usagi transform into Super Sailor Moon. Super Sailor Moon then frees Venus, Mercury, Mars and Jupiter and a giant fight ensues between the Sailor Sodliers and the Black Moon family.
Feeling helpless Tuxedo Mask stands away from the fighting. Suddenly King Endymion's voice tells him to focus his energy into his palms and release it. He does so and attacks with Tuxedo La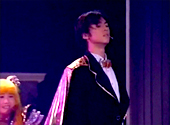 Smoking Bomber for the first time!
Black Lady's arrival puts a stop to the fighting as she explains to everyone that she's Chibi Usa. Sailor Pluto and Super Sailor Moon are horrified.
Black Lady then uses her powers to hypnotise Tuxedo Mask. The entranced Tuxedo Mask slowly walks down the stairs of the dungeon towards Black Lady who embraces him.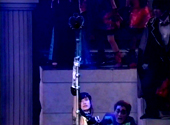 While Super Sailor Moon is distracted by Tuxedo Mask, a member of the Black Moon family steals the Imperium Silver Crystal from her and gives it to Diamond. Diamond then holds the two crystals together (both present and future crystals) and threatens Wiseman with this power.
Seeing no alternative Sailor Pluto uses her time stop powers to freeze time so they can get the crystals off of Diamond. As soon as they do though she falls to the ground and weakly explains that stopping time is a taboo with the penalty being
death. She then tells Super Sailor Moon that she had always wished she could fight by her side and asks Black Lady to remember "Abracadabra". Sailor Pluto dies.
Black Lady begins to remember her true self and Chibi Usa within her awakens as Sailor Chibi Moon.
The Night Won't Be Born From this Pulse - Kono Kodou Kara Yoru ha Umarenai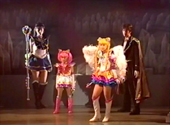 The Black Moon family then attacks Wiseman and destroys his body but his true form, the Death Phantom is soon revealed and one by one they're killed leaving only Diamond.
The Sailor Soldiers pour their powers into the Crystal Palace which awakens Neo Queen Serenity who gives Super Sailor Moon the ability to power up to Eternal Sailor Moon and revive Sailor Pluto.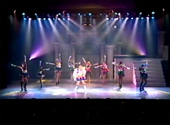 Together Saturn, Pluto, Neptune and Uranus hold Death Phantom while Diamond places his third eye on him and the rest of the Sailor Soldiers blast him into the Dark Gate which he was using to destroy Earth.
Happy in their success, Diamond remembers a memory of himself and Sapphire when they were children and they found a flower on Nemesis. It was then that Diamond promised to take Sapphire to Earth where there were even more flowers.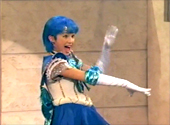 Diamond then passes away, looking forward to seeing his Black Moon family once more.
Eternal Sailor Moon, Tuxedo Mask, Chibi Moon and the other Sailor Soldiers rejoice in the wonderful planet Earth they live on and all the wonderful flowers that blossom there due to their positive spirits and energy.
Moment Fatal
Curtain Call...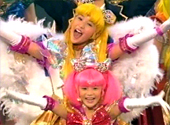 ...and an encore!
21st Century Can't Stay Soldiers of Love - 21st Century Koi no Senshi Ja Irarenai
La Soldier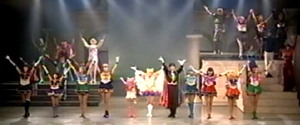 Shopping Info

2001
Summer Special Musical
Birth of the Princess of Darkness, Black Lady

Read My Review / Buy from YesAsia
Buy From CDJapan / Buy from Amazon.jp
<-- Previous Musical -- Sailor Moon Musical Main -- Next Musical -->