Click the "Like" button at the bottom of a page to get it featured in this activity box for other Sailor Moon fans to see!

survey hosting


Only vote once. Sailor Moon Says!

How can I write to Naoko Takeuchi?
A lot of fans have asked me this question over the years and before I answer it I always mention that Naoko Takeuchi doesn't understand English and any letter or email you write to her most likely will not be translated for her and will simply sit on her desk. If you are going to write to her I highly recommend getting someone to help you (if you can't yourself) do it in Japanese.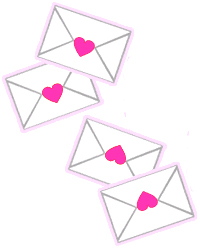 Online translate tools just don't cut it, especially when it comes to Japanese.
Translate some Japanese text into English with one of these tools and you'll see exactly what I mean.
Having said that I do have a page on Moonkitty.net here with her latest contact information. I'm not sure if she is contactable via email though there is a small chance that Naoko reads the emails sent in on the official Japanese Sailor Moon site. There's an even larger chance though that a third party reads and answers all of these questions and that Naoko isn't involved at all.
As always, if you do write, be polite, courteous, and remember that while you represent the manners and values of your country you do not represent the opinions of all other fans.
If you can't get your letter translated into Japanese why not send Naoko some fan art. She has mentioned on several occasions how much she loves getting mail from all over the world and a picture can speak more than words.

Thanks to Sacha for asking this question via email.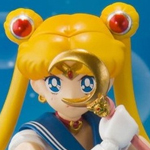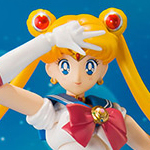 Bandai Tamashii Nations
Sailor Moon S.H. Figuarts Model!
Pre-Order NOW on Amazon.com!

Pre-Order NOW on Amazon.co.jp!

Pre-Order NOW on CDJapan.co.jp!
Pre-Order NOW on JList.com!
Sailor Moon Short Stories #2
Sailor Moon Short Stories #1
Sailor Moon Mug
Luna Plush Toy
Sailor Moon Box Set (Vol. #1-6)
Sailor Moon Luna & Artemis (Set of 2) Pins
Sailor Moon #10
Sailor Moon #11
Tuxedo Mask Mug
Sailor Moon #12
For a complete listing of all the new official Sailor Moon merchandise, check out my Sailor Moon Shopping Guide.

During the special Sailor Moon 20th Anniversary Talk Event in Tokyo, a new Sailor Moon anime due for worldwide release in the Summer of 2013 was announced! For all of the latest information on this exciting new anime, check out my New Sailor Moon Anime Information Page which will be updated constantly with news and images.

Pretty Guardian
Sailor Moon
Super Special DVD-BOX
Every PGSM episode and special!
Coming Soon: In November 2012, special Sailor Moon anime "Memorial DVD Selection" box sets will be released in Japan. Not much is known about these DVDs themselves or how much they will differ from the existing 20th Anniversary DVD Box Sets. Watch this space for news and images of these products.




Sailor Moon Tamashii Nations Shopping Guide
Sailor Moon Costume Shopping Guide
Sailor Moon T-Shirt Shopping Guide
How to Write to Naoko Takeuchi
Sailor Moon Manga Mistakes #9 + #10
2nd Gen English Sailor Moon Manga Shopping Guide
Sailor Moon Accessories Shopping Guide
Sailor Moon Phone Cases & Straps Shopping Guide